"here" .For older bento posts, just click on the monthly archives at the side bar.
Monday, May 19, 2008
Bento #5 and Bento #6, DH's first home cooked bento
I fried some meehoon in the morning.
But since Kimberly asked for weiners for breakfast, I abandoned the meehoon.
Boiled weiners instead, with 2 extra weiners for DH. Also put out the pickles and mustards, slice some zucchini and tomatoes for breakfast for DH to go with the hotdog buns.
The kids had this for bento for breakfast this morning.
Ashley's bento #5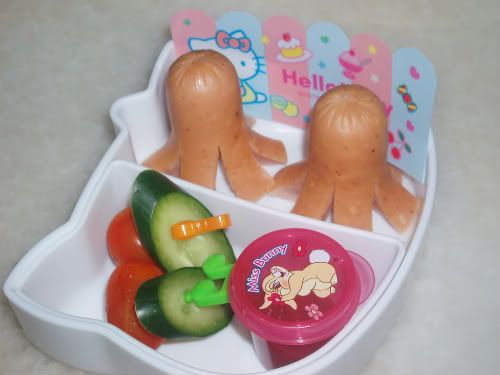 It's Weiners cut with octopus weiner cutter. I didnt put eyes on them, cos the kids had already climbed up on their chairs at the kitchen table. There's zucchini and cherry tomatoes on the food picks. The little pink bunny container has ketchup in it.
She rejects all of them , cos she had weiners twice last week for school. So i had to give her sliced ham and cheese instead.
DH comments that he would get sick of weiners too, if he had it 3 times running in a week. I told him it was last Wednesday, last Friday and this Sat (today) only, but he said "potayto potahtoh". So we are going grocery shopping this evening. Ha ha.
Kimberly's bento.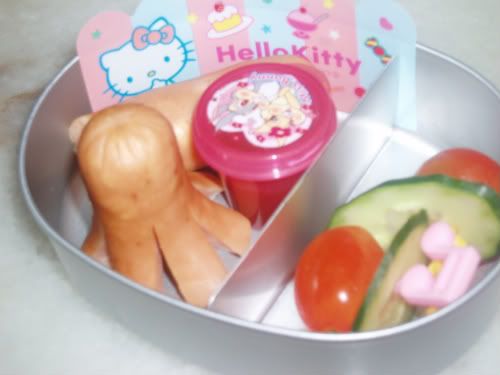 The same thing, except she didnt like weiners plain. She like those weiners with cheese incorporated inside it.
Kimberly ate all of them, including the vegetables, and a hot cross bun (those from Tesco?). Anyhow. worth spending time on bentos if my Kimberly is going to finish up her veges.
My DH was never the type who bring food from home. Not many Malaysian men are, i think.
Everytime i made him sandwiches, he try to finish it on the way out from home and before he got to the office, so that he doesnt have to carry that embarassing pack of sandwich to work.
Today is a rare case. He actually agreed to take food to work. It's Wesak Day today. He is going in to get some work done. He thought if he could get some pending datelines out of the way, the family could go to a temple later in the evening.
So, for the uneaten meehoon, I put up this bento and ask hubby if he would take this to work. For the first time in 9 years of our marriage, he actually agreed to take food other than sandwiches to work.
My oh my.. and the bento is not even impressive. ha ha.
Bento #6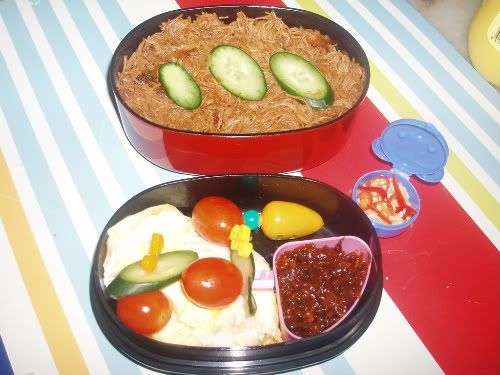 The bottom tier has one fried egg underneath the skewered tomato and zucchini. The carrot container has soy sauce in it. And the side dish has chili sambal with onions from last week's dinner. The blue container has chopped garlic and sliced red chili for him to go with the soy sauce.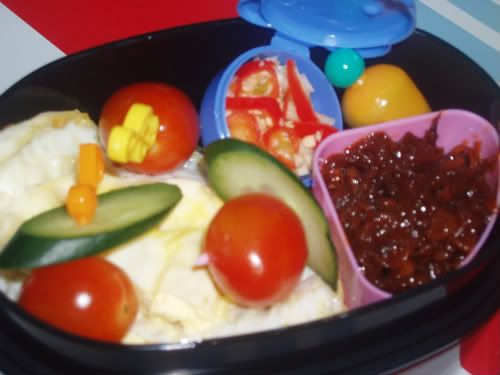 PUt them inside this bento box.
Its a dark maroon box. But my bad photography makes the colour looks all funny.
Ashley's Friday bento pic is in my other laptop in the office. Will try to upload that next week when i have time.
Happy bento-ing, all, and have a great Wesak Day today !!!
Labels: Bento

---