"here" .For older bento posts, just click on the monthly archives at the side bar.
Friday, May 16, 2008
of Bento's....
I have been on a bento shopping frenzy....
From a cloth diaper addict to a bento addict !!! Can you beat that? Sigh.....
Anyhow, this is Ashley's Bento #4, yesterday's snack in school.
Still dont have much choice of food for bento. I still havent replenish my pantry and fridge yet. Will probably do that when we get back from FIL's house on Sunday. Even if i do stock up my pantry, i dont know if i could make my bento as pretty as LZmom and other veteran bento makers. I still have a long way to go.
Speaking of school, I cant help but repeat how glad I am that Ashley is settling down in her kindergarten. It gives me the right frame of mind to complete my work faster by half the time. Heck, I could even spare a minute to blog. Okay... 20 minutes... that or about that...
Anyhow, Bento #4 is plain white bread cut with Hello Kitty cookie cutter. That's because my 2 1/2 year old doesnt fancy any jam or any form of spread in them.
I cut about 4 slices of them. They fit snugly into this "My Melody" bento box. It was hard to slide the side dish into the bottom of the bento and I had to kind of squeeze it in. Anyhow, that's the bread for the 3 part carbo in bento. For the protein, I slide in 2 blocks of cheese cubes. Thats the one part protein.
Inside the side dish are steamed carrots, cut with Hello Kitty cookie cutter as well. The white ones are Japanese pear, sliced. Also cut with the cookie cutter. That's the 2 part vege and fruit for bento.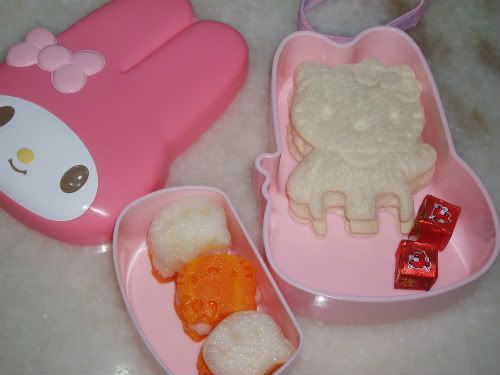 But I thought it doesnt look pleasing to the eye for lack of colour, so I added a banana to her snack.
Put them inside this banana container.
I bought two of them containers. One yellow and one green.
Kimberly had taken a banana in the yellow one to school. Kimberly got the yellow one because being the older kid, she always get the first choice over new purchases. Ashley always get the leftover. ha ha.
Will put up today's bento when i have a chance to upload them up at photobucket. Now to pack for the weekend over at FIL's.
Have a great weekend , all.
Labels: Bento

---