"here" .For older bento posts, just click on the monthly archives at the side bar.
Friday, May 23, 2008
Bento #7 and Bento #8
ASHLEY'S BENTOs
This is Ashley's Bento #7, last Friday's Bento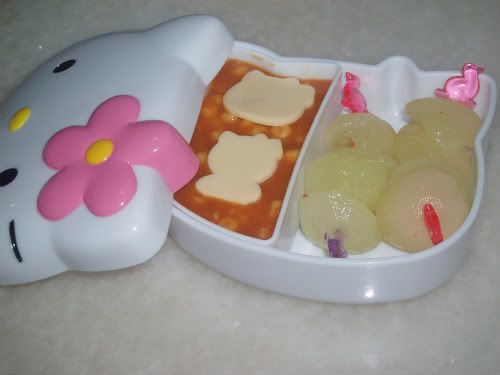 It's pasta with cheese cut out in Hello Kitty cookie cutter on top.
Grapes peeled , halved and skewered on the side.
I cheated on it. It isn't homecooked.
I open up a can of Heinz's Can range of baby food for Stage 2 , ie. chewable pieces, Spaghetti Hoops and Sausage.
Hadn't any carbo to go with it either. So packed this into her bag as well.
This mini pack cookies comes in a variety pack of chocolate sprinkled cookies, Dinasaur shaped one sided chocolate cookie with smarties on top and etc but I thought this vanilla plain ones are the least messiest.
Whatever Ashley didnt finish in school, she would normally eat it on the way home from school.
This Tuesday's Bento is somewhat better. Bento # 8.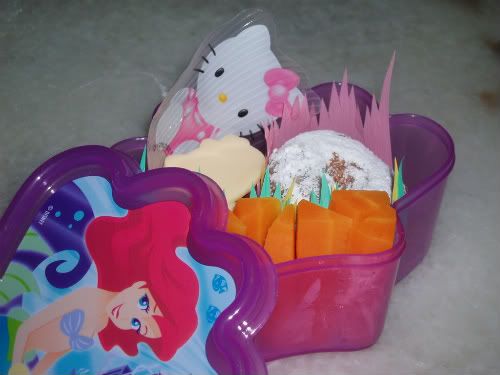 Its mini doughnut fried and topped with shifted icing sugar, with stripes of steamed carrot on the side.
The Hello Kitty baran divider was to divide the somewhat damp carrot strips from the other food but i pushed it to the back to take this pic.
There's milo balls cereal underneath the Hello Kitty shaped cheese pieces. She finished the whole lot in school yesterday, save for some leftover carrot strips.
The good thing about packing bento for your picky eater toddler is, you can ensure they eat at least a portion of your food instead of rejecting all the food offered in school.
Will post Thursday's and this morning's Bento when i have time.
Been up since 5 am preparing agar-agar as well as skewered weiner, zucchini and quail eggs sticks for Kimberly's Teachers Day party in school. Drove over and dropped them off at the school's guard house for the guards to bring them over to Kimberly's class, and then scoot home quickly because I left Ashley with her dad and her dad couldnt handle her if she woke up crying.
Fortunately Ashley didnt wake up during the whole time I was preparing food for Kimberly, else I would have been hindered from contributing party food on KImberly's behalf. I think her teachers are making a good effort to guide my lazy child and this is one way I can show my appreciation. I could have just bought 2 dozen doughnuts from Dunkin Donut like last year but I thought it would be nice to have a home made feel to the food.
Hokay.... now to draft that defence which I have been procrastinating for about a week now.
Have a great weekend ahead, all.
Labels: Bento

---