"here" .For older bento posts, just click on the monthly archives at the side bar.
Friday, April 01, 2011
Ashley's tweaked mini album
Seems like I have been doing nothing but mini albums. I just can't help it, cos my kids likes them! And I like making them for friends and relatives !!
Be that as it may, productions are slow in coming cos sometimes I leave the project halfway for weeks and only got back to it when I have a lazy weekend like when we balik kampung to spend the weekend at my FIL's town. And during the weekdays, half the time, we don't even get home till after 9pm, so it's kind of hard to find time.
Anyhow, this is another mini album.
This was supposed to be a mini album to put Ashley's photos. She has been complaining that while her jie jie has rows and rows of photo album adorning the study room, she had none. Not a single one. So I thought I print some pictures of her and make a mini album for her. I have not printed any pictures since she was born. How bad is that?
This is the cover. The paper is so pretty I didn't want to do anything to it. But I probably will mist some flowers or add some prima flowers and blings to it later.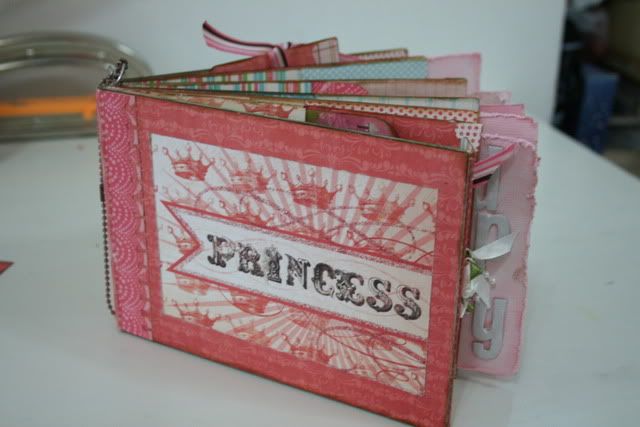 It's a enve album made after I stumbled upon the Paper Trail's tutorial on how to make one.
This is the first page.
There's a flap on the left where you can slot journaling cards into, and the left page fits a 4R photo. The right side fits a 2R photo and there is a good size tag behind the flap where I thought I could add another photo or journal on the back of.
These are the following pages, all with pages for 4R photos on one side and 2R photo on the other and flaps on either side for journaling or more pics.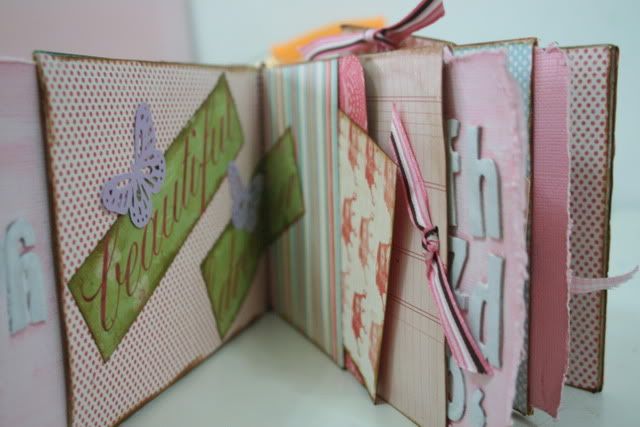 More flaps, more tags !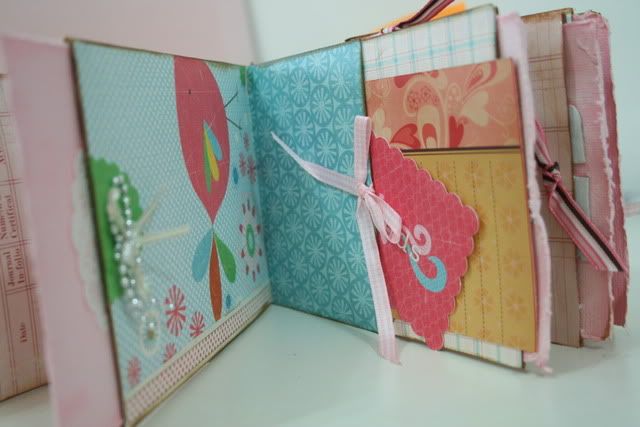 This is the last page. It has a pocket which I put a tag with AShley's name on it.
The pink journaling cards inserted between every page are gessoed and distressed with my new toy, the Distres-it-all.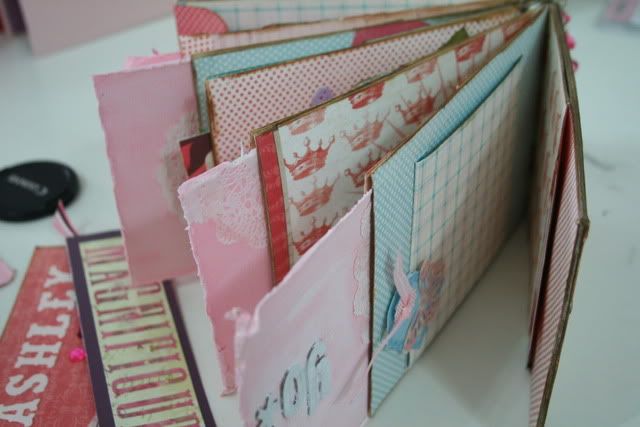 You probably would be wondering why this album is devoid of embellishment or photos. Well, I had thought that I will probably embellish it more after I slot in some photos and make it look more "busy". But before I could do so, Ashley has already claim it for her own and started slotting her paper dolls inside. She also slots bits of stickers and pretty winx club cards.
She now carry this with her when she goes for car ride or when she goes to her ballet school. She would then pull out dolls with their shoes and clothes to play with them when she is bored. So much for a mini album. It has been so tweaked into a paper doll storage album!! *grin*
There is still so much to learn about scrapbooking and I am loving it everyday! Even if I don't get to create, I am happy just to blog hop and get inspired !!
You guys have a great week ahead now! Happy scrapbooking !
Labels: scrapbooking

---