"here" .For older bento posts, just click on the monthly archives at the side bar.
Saturday, May 24, 2008
Bento #9
The kids are in bed so I can finally afford some me time. Never mind that its almost 3 am. Tommorrow's Saturday.
I find having a little bit of time for myself is so important. It keep me sane. Ha ha. I think everyone need that little bit of me time to energize themselves doing things that relaxes them.
Anyhow, this is Bento #9, Wednesday's bento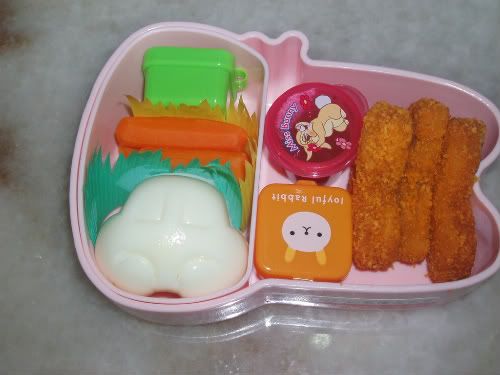 It's heart shaped chicken nuggets with boiled egg moulded in car shape.
The little pink Bunny container has ketchup in it.
Those 2 tiny square box has a mini piece of chocolate chip cookie inside each. The boxes were mayo sauce/ketchup containers.
But I put the cookies in them so that the cookies remain crisp, cos the boxes seems airtight.
I was given a jar of home made chocolate chip cookies by my kid sister, Yannie, cos Ashley loves them. The cookies are small enough to fit in those mayo and sauce containers. The regular shaped cookies like Famous Amos wont be able to fit in.
I think I should bear in mind when making frozen meals in batches to make them small enough to fit into bento boxes. It might be a good idea to build up a food stash for quick bento packing.
Between the green box and the car shaped eggy are some boiled baby carrots. I have peeled its skin off so much that the carrots looks really itty bitty.
Yea, carrots again. Wanted to put cherry tomatoes instead but Ashley picked them off her dish the day before yesterday, so I went back to carrots.
There isnt any carbo in the bento box, so i added this piece of cake with custard filling into her schoolbag.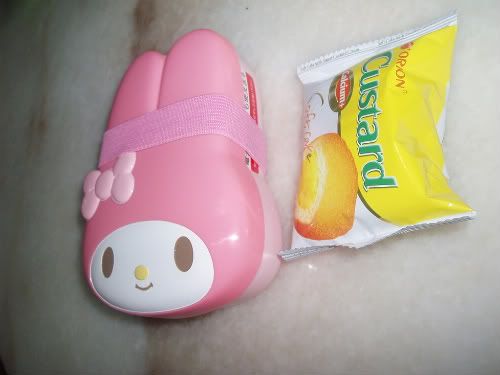 And that's the Bento #9 .
Happy Bento-ing, my fellow bento addicts !!!
Labels: Bento

---