"here" .For older bento posts, just click on the monthly archives at the side bar.
Sunday, May 25, 2008
Of Bento tools and kits - Part 1 of 2
This is a post about my bento kits and tools. My tools is probably not as impressive as most of the veteran bento box meal makers but I sure can't wait to use them.
Here's the low down of Bento Kits for new bento addicts like me. Part 1 of 2. I will put up the rest later when i have time.
These here are the egg moulds. You boil an egg and then gently press them down into the mould vertically while the egg is still hot. Then you plunge the mould and egg into cool water to cool it off before you unclip it.
Egg moulds comes in a variety of shapes. Hello Kitty, Pooh Bear, car, aeroplane, fish, teddy bear etc.
My Hello Kitty egg mould and my Pooh Bear egg moulds are placed upside down. This is how it should looks like from front.
These small ones are quail eggs mould.
I tried to use them for Kimberly's Teachers Day's party last Friday but after awhile, gave up after moulding one set of them, cos didnt have the patience to mould 28 quail eggs. ha ha.
End up using the moulded ones for Ashley's bento box for her snack in school.
Egg moulds are such useful tools to get your picky eater to eat. My Ashley who doesnt eat egg at all finally attempted the egg white after I made one of these in the shape of Hello Kitty.
This here are rice moulds. I got them in a set of three, Hello Kitty, My Melody and the bear.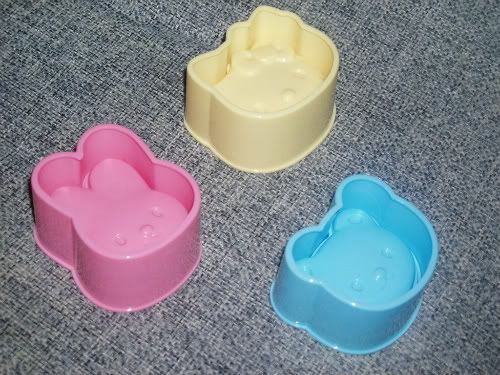 I also use them as a cookie cutter and bread cutter because the bottom of those 3 moulds are sharper than the top.
These here below are 3 hand held onigiri moulds which come from a complete set of onigiri tools.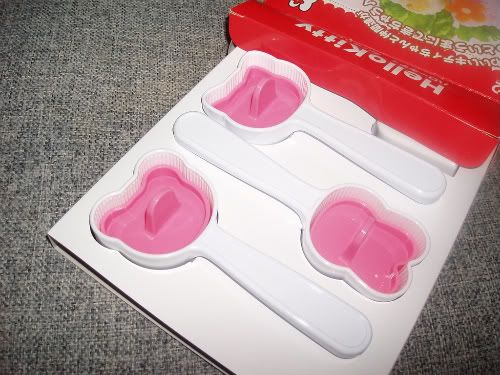 This is how rice moulds looks like.
The picture is not mine though. I put this here so that readers know how the rice mould that come out look like. I mean, without the colouring. I read somewhere that the colouring comes from red cabbage, carrot and green peas.
You can also get rice moulds from Jaya Jusco at RM5.90. they come in a set of 3 too. In the mould of a girl face, boy face and a teddy bear.
Kimberly's tuition teacher very kindly got me one from Jaya Jusco when she saw my first poor bento attempt, way before I purchase any bento tools. She saw me trying to squeeze boiled calrose into an ice cube tray and then trying to remove them after i have compact them down with the back of my spoon. Such pathetic first attempt without the right tools. Ha ha. Thanks to her, I got my first bento tool.
This one is a all-in-one. It's one of my favourite. I have used it just before I started packing bento boxes for Ashley and didnt bother to take any picture then because my bento addiction hadnt hit me so hard then.
It was my very first Bento tool purchase and I love it so much then. Had so much fun with it. The origini mould mentioned above being a gift from Kimberly's tuition teacher lar, she refuse to let me pay her back.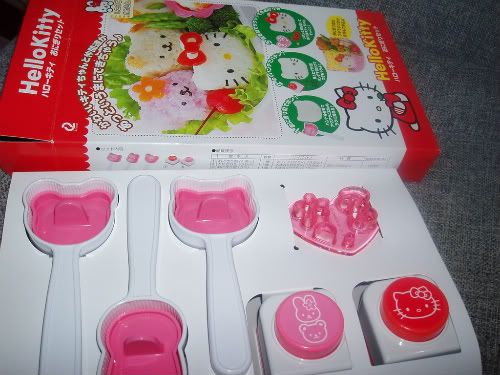 Very useful because you could make a Hello Kitty and her friends' figure just out of everything from this box alone.
There's 3 onigiri mould to mould Hello Kitty's and friends' face figure , the cutter to cut Hello Kitty's red bow out of red pepper, her nose out of yellow capsicum and the nori puncher to cut out Hello Kitty's eyes and whiskers out of seaweed.
Very "one-stop" kind of kit. Her friends,ha ha..the My Melody and the bear's accessories are in there too. Kimberly absolutely love it the first time I made that for her.
These are sprinkler plates.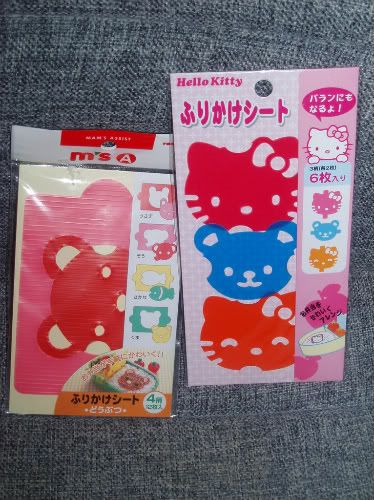 you sprinkle seaweed on top of them and you get the imprints on the onigiri.
Am going to take the kids to the Pooh Bear show in One Utama now. Will post the rest later when i have time.
Happy Bento-ing folks, I think like what Giddytigers and Angeleyes says, we may have just started a bento craze here. Hee..hee..
Labels: Bento

---