"here" .For older bento posts, just click on the monthly archives at the side bar.
Wednesday, June 04, 2008
Of Bento tools and kits Part 2 of 2
Earnestly, I think bento tools are such wise tools to invest, as in any kitchen tools. I pack on-the-road food for the kids EVERYDAY !! At any material time, I have a child's backpack stuffed with cereal, biscuits, nuggets or fishballs or weiners. And I always have a cooler bag full of sliced fruits, yogurt or grapes or banana, milo, juice etc inside the car because I lug my kids wherever I go.
I go into the office after 5 pm sometimes to finish up some work cos i had needed to be home by 4 pm to wait for Kimberly to finish school and to pick up Ashley from daycare. And i had needed to look for food for them almost ALL THE TIME ! It is so much convenient to just confine them in the conference room with finger food and their toys and books instead of wasting that extra half an hour to 45 minutes looking for a place ta-pau-ing food and then pouring out noodles and stuff into bowls etc.
I suppose if one has a reliable maid who could stay at home with the kids, things may be different. There isnt that much everyday on-the-road food packing involved. But half the time i have unreliable maids and/or no maids.
Even when doing errants and chores, I spend half the time looking for food for the kids. For the longest time ever, I had taken to packing food from home. Now, with Bento tools, food preparation is more fun and so much more convenient.
Bento preparation takes a little time, but trust me, driving around, lugging 2 kids to ta pau and then lugging everything and everyone back to the office; or making them eat in the cafe or whatever, is a whole lot less fun than preparing bento and them having food they can eat in their stroller or in the car.
Plus, bearing in mind if your kid is a picky eater like my Ashley, you may be needed to pack for school all the time.
Now with bento tools, its a bonus to be able to make things pretty for her.
Kimberly seeing all the bento meals that Ashley is having, has also asked for her own set to bring for breaktime as well (her lunch is provided in school). I figure with school going kids, investment in bento tools are definitely not going into waste.
Following my below post on
bento tools
, here below are the rest. Finally had some time to load them up at photo bucket.
We were at FIL's last weekend and Ashley loves to explore the garden. FIL has a garden huge enough to keep her occupied for sometime, leaving me with some me-time to blog. Finally...phew !
I know this post has been outstanding, as reminded by my fellow bloggers.
Anyhow, these here are food picks.
YOu pick fruits or skewer food through them for ease and convenience. Bento is all about ease and convenience and none of that picking bones and seeds off your food stuff.
You can never have enough toothpicks. Kids lose them all the time.
Bento's food are to be 3 part carbo, 2 part fruit and vege and one part protein. Calcium and desserts wasnt supposed to be counted, i think, cos none of the articles i read suggested calcium or desserts, but i add a snack or two sometimes. Plus i see many pictures of bento with added jelly or snack on the side dish.
These are the mayo, ketchup sauce containers. You can put tomato ketchup or mayonaise in them to go along with your food. I put jellybeans in them sometimes.
This one here is Kimberly's favourite.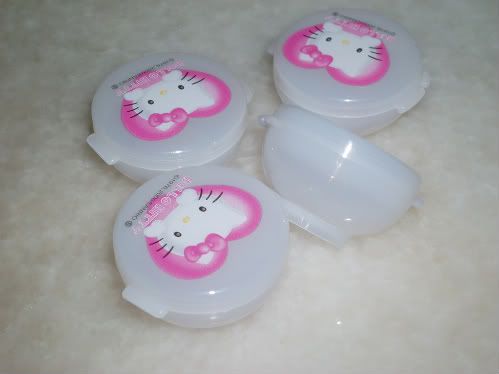 The rest of the containers....the monkey one has a banana shaped spreader spoon inside it. I use the banana spreader container to put peanut butter for Kimberly to go with her Ritz crackers. For Ashley, its plain butter. They enjoy spreading stuff on their biscuits during long rides to FIL's house on weekends.
I have been known for putting chocolate spread in them for the kids. You can add finger/stick biscuits on the side for them to dip into.
I use another sauce container for hundreds and thousands or rainbow spinkles for the kids to coat their chocolate coated dipped sticks into.
Like this :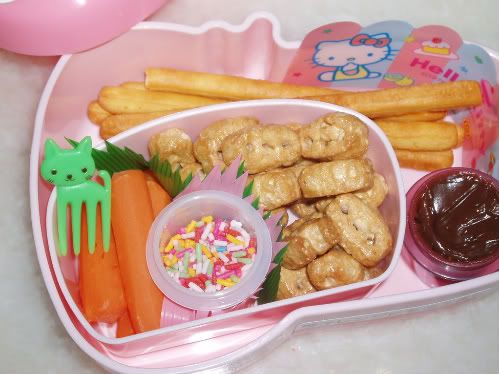 I use Dove's chocolate spread , which is a lot better than other chocolate spreads.
Cheong, the Kellogg multi grain you ask me about is the cereal in the above picture.
These are one of my favourite. Banana containers. It saved the bananas from getting bruised in transport. My kids usually turn up their nose at the banana if its bruised so this is a cost-saving device, actually. It saves the banana from ending up in the trash can . ha ha..if not in momma's tummy.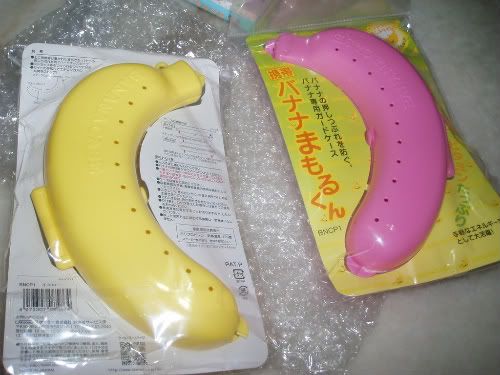 These are soy sauce containers.
the little ones on the side are free gifts from one of the online store owner.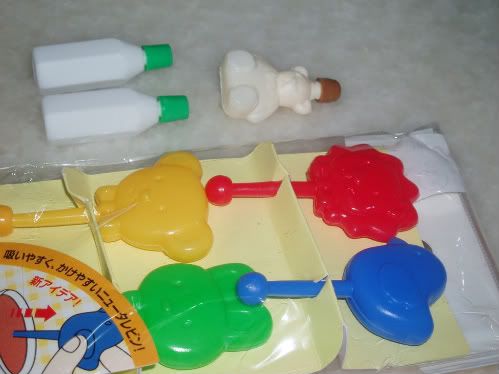 These are weiner cutters.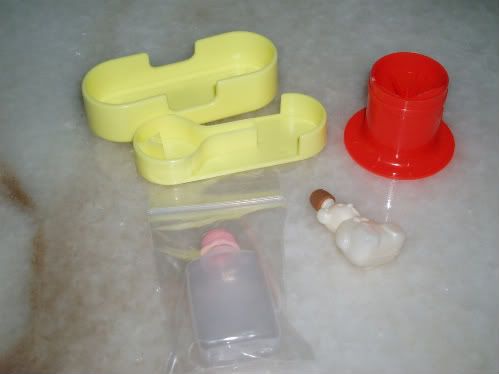 The weiner cutters are free gifts from another online store owner. One makes a Tulip weiner and the other makes octopus shaped weiner. Those stray little soy bottles are also free gits from another online store owner.
These are the side dishes. Useful for putting wet stuff like grapes or anything that you want segregated for it to be easy on the eyes.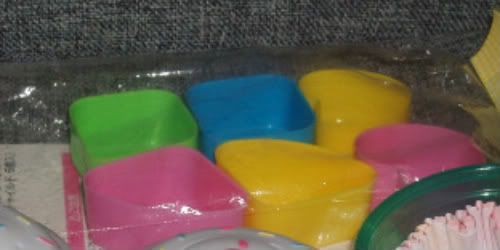 These are cupcake shaped cups that i use to put muffins or small cakes and buns. I also use them for corn and cereals. But they are not air tight or leak proof, so its better for muffins and buns than for food that need to stay crispy.
These are paper cups that I use for dry mini wheetabix, Kelogg's multi grain, milo balls etc.
Similar to Cheong aka MylovelyA, I was also kind of disapointed that these are not plastic or aluminium, but my own fault entirely, for not reading the description properly.
Be that as it may, those cups are still really pretty. And i like that it's gloss over on the surface so that wet stuff doesnt leak through. But i normally use it for dry stuff though.
If I have some time, I would love to bake some muffins in them for the kids
These are the bento straps. The hold bento boxes together if you are not using those containers with side clipes
These are cookie cutters.They double up as cookie cutter, toast cutter, ham cutter, egg white cutter, steam vege cutter, sliced fruits cutter etc.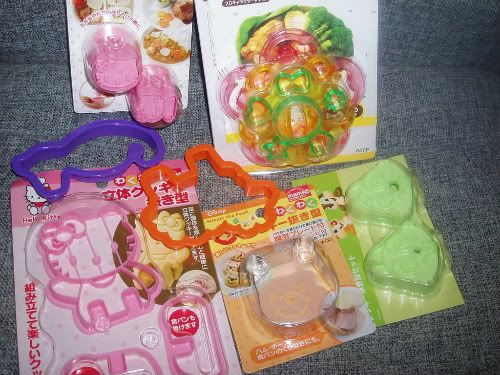 I love this one. I use this one for the kids' dinner over the holiday to cut ham and egg figurines to lay over their rice. This one comes with a recipe book to teach you how to cut up figures complete with arms and legs and faces.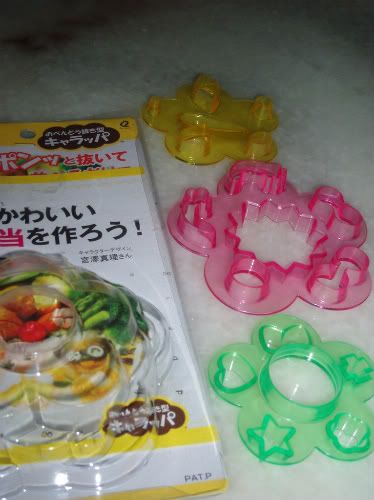 These are all my old cookie cutters.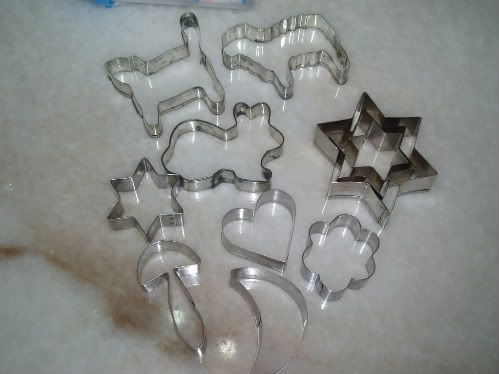 These are baran dividers. Help pretty up your bento box and segregate different variety of food or wet from dry food like steamed carrot from sandwich, for example.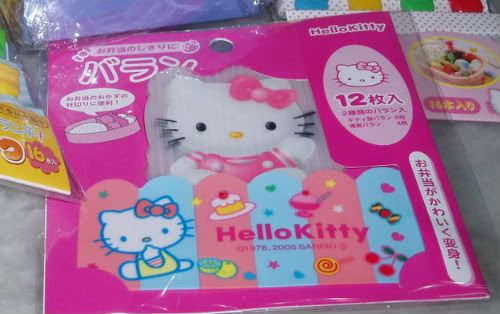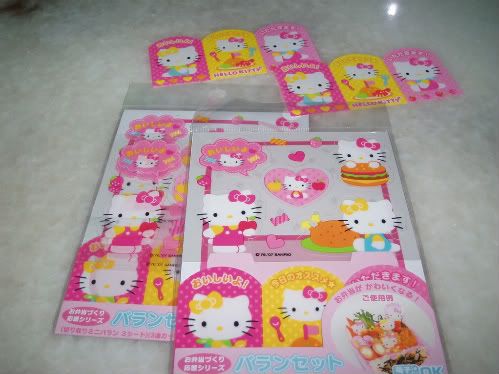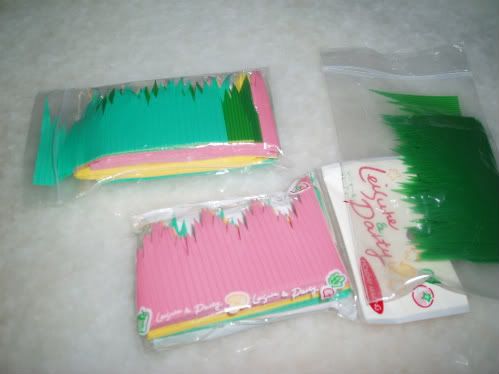 These flags are free gifts. Plus some wet wipes .
These are jelly moulds. YOu can double them up as moulds for ice, chocolate, pudding etc. These here are Hello Kitty mould and a Pooh Bear mould.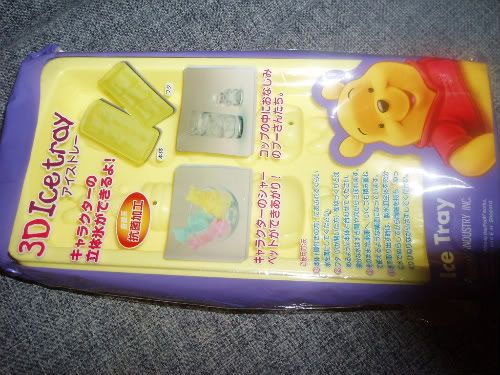 I have only used the Hello Kitty ones. I got some chocolates from the bakery aisle, melt them in the microwave and pour them in, then set them in the fridge to cool. Kimberly loves them !!
This is a pudding and cake mould. It is oven-safe.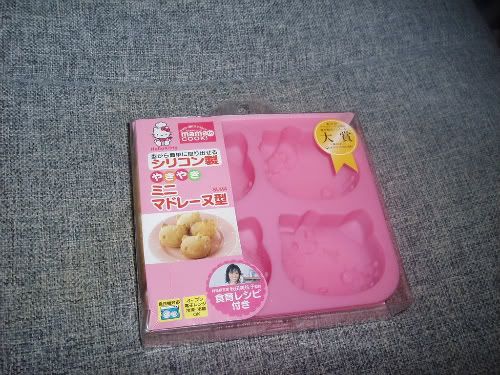 I havent used it yet. I have big plans for the holiday. Drew up a revision chart for Kimberly's school work, cakes and stuff we can bake. Till today..nyeh..nothing...And this cake mould went back into the stash.
Okay, I think i didnt miss anything out. Sigh...i did, I missed out the nori punchers. Anyhow, will see if i have time to load them up. Right, now to move this post from last weekend's draft into today's post.
Happy Bento-ing, my fellow Bento addicts !!
Labels: Bento

---