"here" .For older bento posts, just click on the monthly archives at the side bar.
Thursday, July 31, 2008
The day she came home without her bento box
Just the other day, I was reading Jo-N's
comment
that her only concern about packing bento is that her kid may not bring the bento box home, since it happened once before.
I had remembered thinking, "Oh, it's probably because
Jo-N's
kids are younger than my kids".
After all, Kimberly is already in Primary Two. Not only she comes home with her bento box, its complete with the day's foodpicks and dividers and food cups.
Today, my 7 1/2 year old rang me up at the office. She asked if I could go to her school's lost and found store because she couldn't find her bento box. She said that she had left it on one of the round tables while she went to play. When the bell rang for ending of recess, she came back for it and found it gone.
That was her favourite bento box. It's a Love and Berry bento box.
For those of you who haven't any little girls or are not familiar with Love and Berry, it's those 2 Japanese girls, who, according to my little girl, dress up in beautiful clothes and had dancing contests.
They have this Love and Berry arcade card games at the play area at Jaya Jusco Midvalley. You can see little girls choosing their selected dress , hair do, shoes from their pile of card collection before punching the "go" button and swiping the cards through. The Love and Berry girls would be magically transformed into the outfit chosen. Cool. yea? And those who coordinate their outfit better get higher points! Ha ha.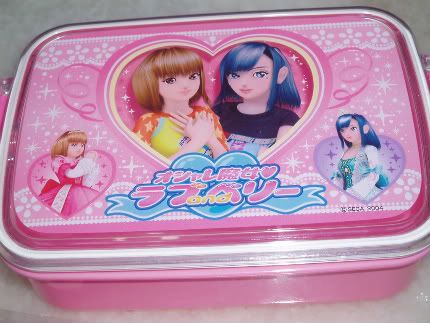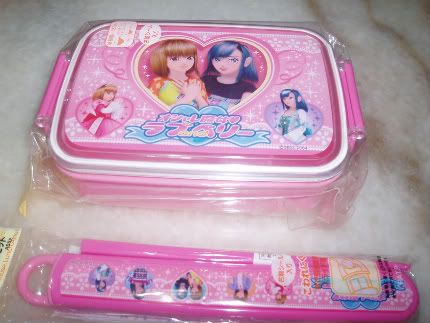 Anyhow, I got Kimberly this Love and Berry bento box for USD16, and Kimberly was ecstatic over it. It's her all time favourite bento box.
Today, according to MIL, she came home in tears. She has been holding back her tears till she got home, the poor dear.
So I packed up my laptop, left office and phoned the school's lost and found person in charge to arrange for the key to the store room to be passed to one of the security guards so that we may have assess to it after the person in charge has gone home for the day. It was after 5.30 pm when I got there.
As usual, one of the guard would escort the parent in , due to safety measures taken by the school. The particular guard, Rashid, went with me to the cafetaria where a pile of food containers were stacked up on one of the tables. Apparently, every day after school, some kids would inadvertently left something behind.
One glance told me Kimberly's favourite Love and Berry container isn't among those in the pile. So I asked the guard if I could look through the lost and found baskets in the storeroom.
Rashid said it probably wouldn't be in the lost and found storeroom because the day's pile is still in the cafetaria, but I thought I take my chance anyhow.
We went upstairs and I pulled up my sleeves and rummaged through the pile of leftover containers with rotting food still inside them, trying not to breath as I do so.
Nope. Nothing. Feeling disappointed, I asked Rashid if we could look through the cafetaria again.
We went down and Rashid asked the cleaning lady sweeping the floor if she had seen a pink coloured container. She said," Yang itu saja ada" , pointing to the pile that I had looked over.
You know, when your kid love something so much, you do everything you can to try to get it back. I am sure lots of moms would agree with me on this.
So, I continued searching. I look under tables, behind doors, on trays, behind counters, under the sinks etc, all the while the cleaning lady keep stealing glances at me.
On searching the last of the 4 corners, just before I reach the tall 4 footer metal dustbin, the cleaning lady said, "Oh, ya, Ada satu, Yang ini" And she walked to the very dustbin and whipped it out from behind somewhere.
I was so grateful she found it, I keep thanking her and Rashid.
See? Like I found gold only !! And it's only a bento box. Ha ha.
When I reached home, Kimberly was overjoyed and gave me a hug,
"Momma !!! You found it !!!"
But what Rashid said earlier struck my mind, "kadang kadang bukan kanak kanak yang mau. Orang dewasa pun nak juga. Boleh bagi anak sendiri"
I am half minded to think that he is refering to the cleaning lady, with her initial denial and her quick recovery of memory loss, because Rashid looked at the cleaning lady funny.
Malaysian being Malaysian, we like to give people the benefit of doubts. In all probability, the cleaning lady could have earnestly forgot that she placed it behind the dustbin and not pile it together with the stack of left-behinds.
In my opinion, whether she had the intention or not,whether she had forgotten or not, at least she has conscience enough to disclose it at the end or had jogged her memory in time. To a grown-up, it's just another container, but to a certain little girl, it's really important.
And a little girl got back her favourite bento box !
Labels: Bento, everything under the sun, Kimberly

---