"here" .For older bento posts, just click on the monthly archives at the side bar.
Monday, July 14, 2008
Bento #36
Ashley's and Kimberly's Tuesday Bento are ham and cheese roll up and grapes.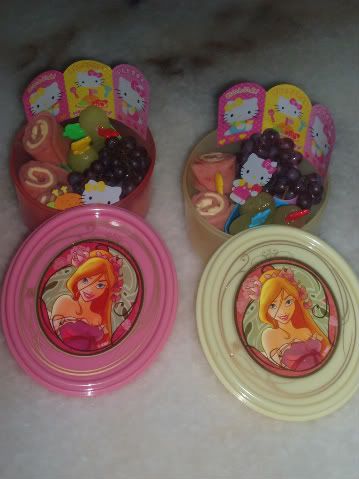 The tiny purple bunches are the champagne grapes and the peeled and skewered ones are the regular sized grapes. Kimberly's pink container has peeled green grapes and Ashley's yellow container has the peeled purple grapes. Toddlers as young as Ashley normally dont favour those green grapes.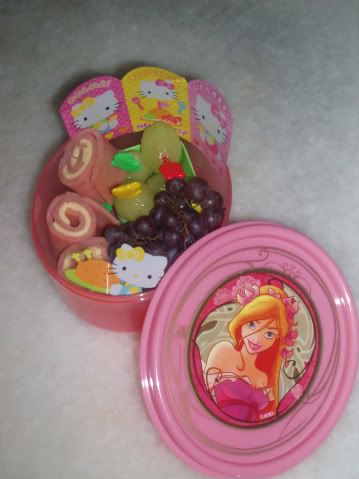 I thought mere fruits aren't filling enough so I added a pack of commerially packed mini biscuits. Arnott's choc chip teddy biscuits.
The bento both came back empty and both kids didnt touch the Arnott's biscuits. My kids has a tendency to turn up their nose at most commercially packed biscuits. They prefer home bake cookies and only selected biscuits like Ikea's cappucino thins and Famous Amos cookies.
Anyhow, will post Bento #37 and #38 soon. Just going to publish this first in case I hadnt time enough to post the rest before Ashley wails for me in her sleep.
Have a great week ahead, all !
Labels: Bento

---