"here" .For older bento posts, just click on the monthly archives at the side bar.
Friday, July 18, 2008
...popped goes the bubble....
Further to my
post below
on this cute looking car.... popped goes the bubble.... Ha ha.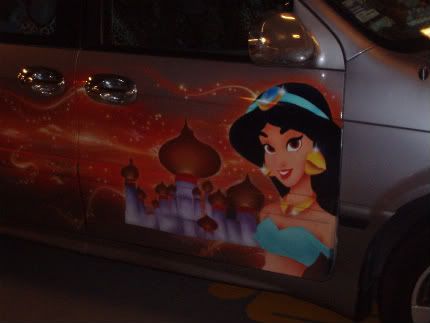 I was eager to show my little girl the pictures of this Disney Aladdin car that i took at Ikea earlier this morning. To look at more pictures of the car, scroll down below this post or click
"here"
.
So, I called out to Kimberly the moment she got home, "Come here, hon, Momma got something to show you"
"What?" she asked suspiciously, " I dont want any lunch. I ate my lunch already"
My little madam has this morbid fear that I am forever trying to shovel food down her throat the moment she step into the house. This is because I am so paranoid that my kid may have starved throughout the whole day at school from 8.00 am to 3.30 pm. Ha ha.
"No ! No food", I promised, "I just want to show you this neat looking car"
She came forth and peered into the screen.
"Oh, this car !" she said dismissively.
" I have seen it before".
Suprised, I asked her, "Where?"
I mean, she cant have seen it if I havent seen it. After all, she only goes out with me.
"I saw it in school" She said.
"Really?".... still wondering, I asked,...."When?"
"I see it EVERYDAY, Momma !! It's at the busbay waiting for some kid"
Sigh..and I thought I have something neat to show her.
Well, never mind. There is still my husband. I still can get a kick out of showing him that.
So when DH steps into the house, I called out to him too.
"Hon, come over here, let me show you this car !" DH climbed up the stairs.
Taking one look at it, he said, "I have seen this car around. It's been around for a long time!"
Oh, okay. Now I am deflated.
But, humour me, it still is a neat looking car, is it not?
Labels: everything under the sun

---