"here" .For older bento posts, just click on the monthly archives at the side bar.
Saturday, July 05, 2008
Bento # 28
Kimberly has a field trip on Thursday.
I didn't want her bento box to weight down her sling bag cos she would probably be carrying her bag around the factory. Her water tumbler alone would be contributing to the weight on her tiny shoulder, so I figure she could do without a bento box today.
Hence, the zipper bags!! So, not exactly a bento, ha! ha !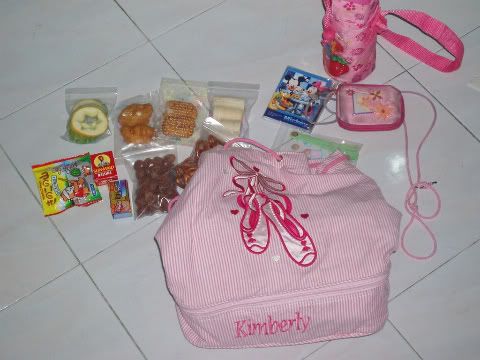 For her field trip, I fried some chicken nuggets for her. Fish nuggets tend to be less firm and may crumple in transport, so I thought chicken nuggets would survive better in a zipper bags. I separate them into 2 zipper bags even though I have another box of zipper bags large enough to hold 4 nuggets. This is for hygiene reason just in case she decide that she hasn't enough appetite to finish all 4.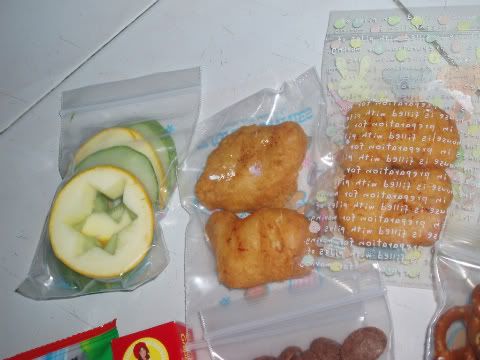 In the zipper bag to the left of the nuggets, are some yellow zucchini slices and cucumber slices. Kimberly complained that she prefers the "inner" but I didn't quite relish the idea of her stowing all those cucumber seeds in her tummy. On the right of the nuggets are some sandwiches roll-up. One turkey slice with butter roll up and one cheese roll up. Cut them both into half.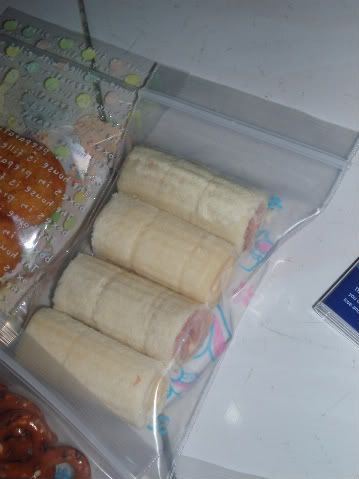 This neat looking roll-up (look, no cracked corners !) is made with a tip that Rachel's mom gave me in
my earlier post
.
She said using a sushi mat will make it neater, and voila !!! Did it ever !! Neater, I mean. I don't even need foodpicks for them ! Thanks,
Rachel's mom !
On the bottom row of the savouries are the sweets. A zipper bag of pretzels and a zipper bag of coco crunch cereal.
I threw in a pack of chocolate coated biscuits bits for her. As well as a mini pack or raisin and smarties. The commercially packed stuff all came back untouched, together with the coco crunch cereal. She finished all the savouries, including the zucchini, despite complaining about wanting the "inners" and not the "outers".
Toddler's Bento #28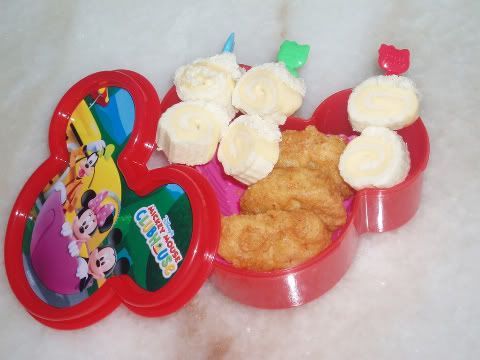 Ashley's bento is somewhat similar, except she wont be able to finish that much food.
So Ashley's bento is 3 chicken nuggets and one cheese roll up, cut into tiny pinwheel slices of 6. I secured them with foodpick so she could pick them up easily with her tiny fingers.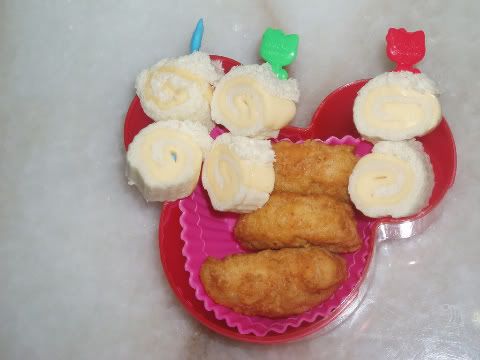 For Bento #29 and #30, I posted them at
my new blog
and I would love for you to drop a visit to liven up things over there.
Have a great weekend, all !
Labels: Bento

---