"here" .For older bento posts, just click on the monthly archives at the side bar.
Wednesday, July 09, 2008
Bento #31, #32 and #33
Yay !!!! Mother in law is here. She arrived on Sunday !
That means I can take a breather and that I could work late in the evening instead of rushing home. MIL usually helps with the batch cooking on weekends. I spend the whole of yesterday's morning juicing fruits for the kids weekly consumption. Freeze them by the trays. I figured I have cooked enough frozen dinners last week to last the next week so I took it easy yesterday.
So, when MIL arrived and took a look at my scarce looking freezer, she set about cooking up a storm ! I just love my MIL. When she comes over, we get fresh food and dinners set on the table every evening too !! I feel so pampered whenever she is here!
Having Sunday free, we took the kids to Midvalley instead. They had their usual go at the playground. Kimberly took along her stash of Love and Berry dress up cards but the Love and Berry dress up games machines were not operating. Seems that it hasnt operated for a long time. Isnt this just typical? So she has a go at other games instead.
This is taken at the playground. Couldnt take a good pic cos they both wandered around.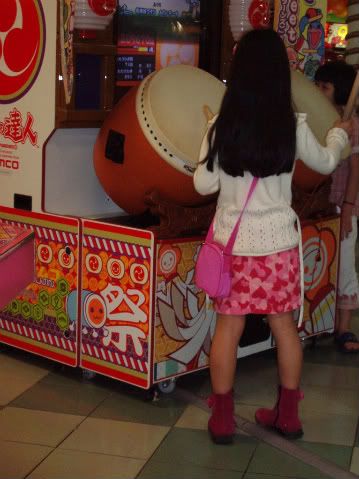 Anyhow, I had also ample time in the morning to make some sushi for DH's Bento on Monday since MIL helped in getting the kids ready for school. I had some daikon, salmon and cucumber in the fridge, so made him so sushi.
My second attempt at sushi(s).
Bento #31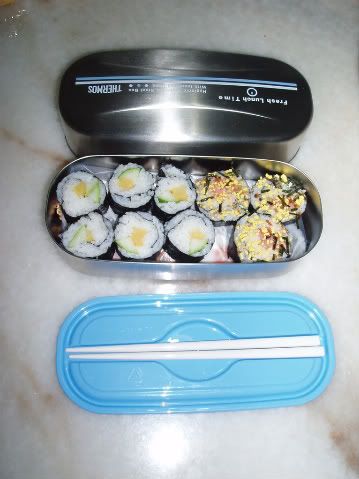 Its cucumber and daikon on the left and salmon on the right and another row of salmon on the bottom layer.
Noticed how the furikake didnt stick on to the sushi like how they are at those Japanese eateries? Did I do something wrong? How do I make them stick better?
Hubby says he would love some more meat in the bento instead of just salmon. Hmmm...unagi? What can I add in them?
LZmommy ?
,
mamabliss ?
,
Rachel's mom?
. I would love any ideas if you could send me the link to your recipes!
This is Kimberly's Monday's Bento
Bento #32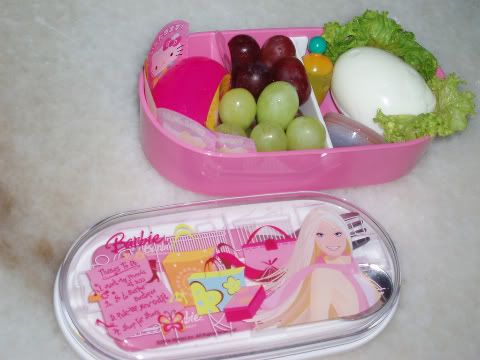 It's a Hello Kitty moulded egg. The egg is far too large for the mould and I could only snap one lid out of the 4 lids. So the mould didnt turn out right. But my little madam says, "It's allright, Momma, I dont mind"
So in it goes, into the bento !
The little pink jellybean box contain some nuts and raisin mix. Added some grapes unpeeled for her cos I thought the colour combination would be more pleasing to the eyes but she complained that she had needed to spend a long time peeling them. I thought the idea was to eat the skin as well. Ha ha.
The Hello Kitty white container has some ketchup in it. It's for the egg. And the carrot container has soy sauce.
Ashley didnt go to school on Monday, hence no bento for her. I thought it would be nice for her to stay at home for once since MIL is here.
This is my Bento !
Bento #33
MIL cooked us some fried noodles for breakfast on Monday. so I took some for lunch.
I added some sliced carrot and cucumber at the side, a boiled egg and sliced up weiner. Forgot to add some soy sauce for myself. Lucky there's some leftover sachets of chili sauce in the fridge at the office. Else, the egg would have a hard time going down my throat. Ha ha.
For Tuesday's and Wednesday's bento, just hop over to my other blog at
allthingspurple dot my
, okay?
Have a great week ahead, all !
Labels: Bento

---