"here" .For older bento posts, just click on the monthly archives at the side bar.
Thursday, August 07, 2008
Bento #47 - Hubby's Bento
This is hubby's Tueday's bento.
Kimberly had severe nosebleed throughout the night before Tuesday. I thought it is prudent to keep her at home. It proved to be the right move, because she get nose bleed twice throughout the day itself. She got tons of homework the next day, though, from her absence on Tuesday.
We took her to ENT before, and the ENT doctor says Kimberly need to undergo a simple surgery to divert the blood from the broken blood vessel to another vessel. But we thought she was too young. So we just keep her from rubbing her nose too hard till she is old enough.
Anyhow, Ashley, seeing her chieh chieh at home, didn't want to go to school either. So both kids stayed at home. So no bento for the kids nor for myself.
Only hubby's bento.
Bento #47
Hubby's bento is leftover tofu from yesterday night's dinner, with fried onion with oyster sauce on top.
On the left container is a piece of unagi cut into 3 equal slices. That's the protein taken care of. I added 3 yellow cherry tomatoes and some slices of red pepper for vege.
For carbo and additional protein, hubby had tofu pouch stuffed with calrose rice. I wasn't sure if the tofu pouch were to face up or down. I see most kawaii Japanese sites having it face up, with seaweed face punched out with nori puncher. But I also see traditional Japanese food site having them face down.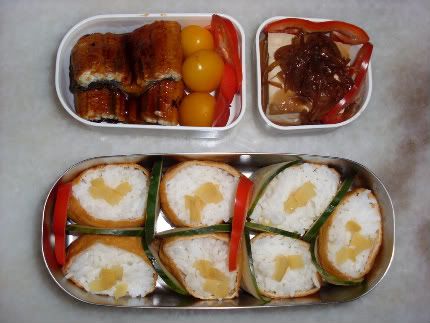 Unsure, I tried them face up.
Hoping for some feedback from veteran Japanese food cooks like
LZmommy
,
Blessed Mum of 3
or
Bento Pet
!!!
I added some daikon topping on rice stuffed tofu pouch and divide each individual tofu pouch with slices of cucumber and red pepper.
Packed them into this 2 tier bento box.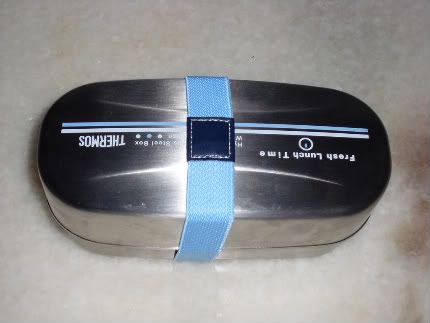 Hubby had a rushed schedule today and was grateful to be able to grab a quick bite in his office instead of having to go out for lunch with his business associates or usual lunch partners.
Will post Wednesday and Thursday's bento soon !
Happy bento-ing , folks !!
Labels: Bento

---