"here" .For older bento posts, just click on the monthly archives at the side bar.
Sunday, August 10, 2008
Bento #48 - Toddler's bento , Bento #49 - Fried rice bento
Bento #48
This is Ashley's bento of Wednesday.
Ashley's bento is simply steamed carrots layered with cheese, both cut into Hello Kitty shape. This is her favourite shape. Mainly because it is her
chieh chieh
's favourite shape. haha.
Cut some bread and butter sandwich into Hello Kitty shapes and Chip and Dale shapes.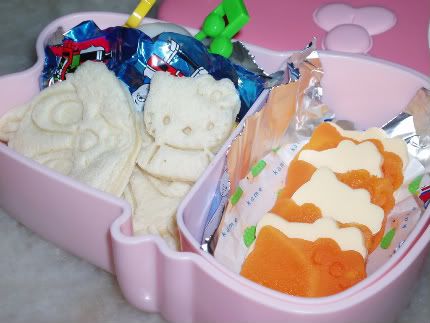 There is some grapes in the foil, but my battery ran out and I didn't get to take a picture of its content.
Kimberly doesn't need a bento today. I normally pack her a bento if I think she won't be eating most of her lunch.
Since her school's meal plan for lunch today is steamed rice with broccoli, carrot, omelette and fish, all of which are food she would eat in my absence, I gather she could do without a bento today. Pack her some cereal for break instead.
Bento #49
- Fried rice bento
Bento #49 is fried rice. Fried some leftover rice with leftover
lup cheong
and
siew yuk
in the morning. There is soy sauce in that tiny carrot container at the side.
Fried an egg to go with it. Packed into the bento with lettuce, tomatoes and cucumber. And some raw carrot for crunch, because I didn't have enough steam carrots leftovers from Ashley's bento.
Hubby took one look at the bento and said, "This where got enough for lunch?" "I'll have it for breakfast"
Hokay.....only bigger bento meals will do for lunch. ha ha !
Anyhow, packed similar bento for myself. Mine is for lunch though.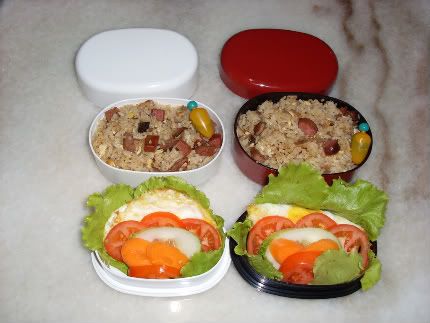 Packed them into these bento boxes. Got them at RM4.90 each at 100yen store. Isn't that a good deal?
My staff likes those bento boxes so much they asked me to get them two each, but when I went back for it, they were all sold out. There were only those tiny Pooh Bear ones left.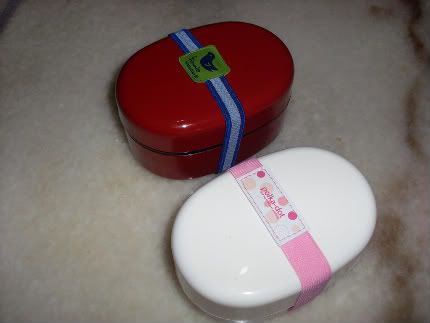 By the way, the winner for
Bento Pet
's contest has been announced. Nope, I didn't win, but it was fun. Although I feel almost apologetic, because a lot of blogger friends text me every now and then to tell me, "Hey, you are no. 4 !" "Hey, you are no. 2 now !" . I think some of them are more excited than I am.
Earnestly, it doesn't matter who wins. Cos all the contestants were great !! I am even amazed that I can come up to No. 2, particularly since my votes were a gradual climb and not leaps !! And particularly since all the contestants were just so amazing!
It was really fun and exciting too, especially when blogger friends phone me or text me every now and then to tell me the votes. It's like running for election, ha ha !!
From this, I am overwhelmed that my effort to post bento posts are really appreciated, and I am grateful that I have blog readers who actually vote for me !!
Thanks guys, lurve you all !!
Thanks, Bento Pet, for affording this opportunity for us, and also to let us know the links of all the other contestants and fabulous bento packers out there !!!
Labels: Bento

---