"here" .For older bento posts, just click on the monthly archives at the side bar.
Wednesday, September 17, 2008
Bento #70
Monday's bento was fixed in like 5 minutes. All I had needed to do was snip!
Because MIL fried some
roti canai
for DH's breakfast, I took advantage of the ready cooked food. Otherwise it was going to be pasta with meatball and kiwi. MIL had came over on Saturday so that I could go in the office over the weekend to do some work in peace, to make up for the backlog last week when Ashley was sick.
I had a full day trial on Monday and didn't want to spend too much time packing a bento.
To expedite, I also use this bento box that I got from 100 yen store for RM4.90. I also got the compartmentalized boxes for RM4.90. Such a good deal, yea? With this, I don't even need to dig out my silicon cups !!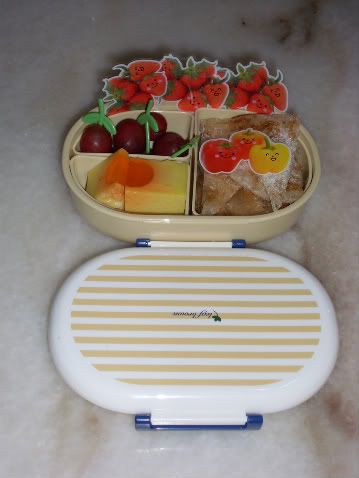 I thought I give Ashley a change from the usual pink bento boxes! So I use the stripey beige one instead of the dotted pink compartmentalised one.
I cut one of the
roti canai
into triangles and sprinkle them with sugar.
At the side is some jelly mooncake that the girls' 3rd
Kau-Fu
bought over for them on Saturday night because we couldn't make it to my mom's for family dinner. It was Mooncake Festival Day on Sunday.
I had to work over the weekend and came home quite late.
But isn't it nice of their single and young
Kau Fu
to think of them when he saw those jelly mooncakes?
I love how the mooncake maker makes those orange balls to looks like egg yolks as in the traditional single yolk mooncakes. I was told those are home made. Made by our neighbour next door. My mom's neighbour,that is.
My kid brother bought them 4 different flavours. There are dragonfruit flavoured one, coffee flavoured one and bubur cha cha flavoured one. But Ashley prefer this over the rest. This is corn and orange.
I added some grapes in the bento box for Ashley.
I am pleased to note that she has graduated to eating grapes with its skins on.
Those are seedless. But where they are with seeds, Ashley would bite a teeny bit off the top, then dug her finger in to pick the seeds off before popping them into her mouth.
I wonder who taught her that? Maybe a teacher in school? Or perhaps she observed someone in her class doing that? But I thought I was the only mom who packed a bento box or a lunchbox in her kindy, so where did the grapes in school come from then? Anyhow, will make a note to ask her teachers.
I added a Hello Kitty anti-bacterial sheet on top of the food to stop the sugar from the roti canai from scattering over to the mooncake and grapes, not that it matters anyhow, since all 3 are relatively sweet food.
She ate half the roti canai but finished all other food.
I guess roti canai won't be in the list of my favourite bento item.
Not just because she didn't like it enough to finish it, but also because it is ghee laden.
So that's Monday's bento.
I was half minded to scoot off to court without having her going to school, so that I don't have to worry about her food and save time on bento. Her gran would see to it that she eat throughout the day in my absence. But I'm glad I didn't take her off school on Monday. The little one would have been oh-so-bored at home.
Will catch up on the rest soon.
Have a great week ahead,all !
Labels: Bento

---