"here" .For older bento posts, just click on the monthly archives at the side bar.
Wednesday, August 27, 2008
Bento #58 and Bento #59
I had to spend a major portion of my limited wee hour in the morning sourcing for Kimberly's English project material instead of packing bento. So today's bento meal is a simple one.
I know I was suppose to source for Kimberly's project material earlier but I hadn't much time over last week. When I finally found some time over the weekend when we went to FIL, I realised that I have not brought my laptop along. Hence the eleventh hour rush again.
She tried to surf the link I gave her over the school holiday, but the pictures she came up with were really small pictures, which I felt wasn't what her teacher wanted.
Anyhow, this is Ashley's toddler bento meal of the day.
TuesdayBento # 58
Bento #58 is one teriyaki chicken drumstick cut up and skewered. It looks really little, yea? But it's one whole regular size drumstick,no less.
On the upper portion is two bunny shaped onigiri. I took them out from the freezer and steamed them in the microwave. I made them ready with the eyes and nose so it was a pretty speedy affair. Stuck a baran divider between the two onigiri so that they don't get stuck together.
On the side of the onigiri are some zucchini slices and 2 cherry tomatoes. I try not to pack carbohydrates as I know Ashley is more minded to eat biscuits, rice and noodles in school nowadays.
Bento #59
I think I won't be packing much bento box meals for Kimberly in the near future. She came home from school yesterday to tell me that the school's new canteen operator serve terific food.
She also told me she ate a major portion of her school's lunch that day.
Her school has been having some issues with their canteen operator of this year. Lots of kids are skipping their lunch and is buying other food from the counter instead.
I am pleased to hear from my little girl that she likes the food served by the present operator. I had started packing bento food for Kimberly because she seems to be eating the school's lunch less and less as the year go by. I spoke to one of her classmate's mom and she, too, told me that her son told her that he likes their food now.
Anyhow, back to bento.
This here below is not Kimberly's bento for Tuesday. I found this picture lying around my laptop and remembered that this was the bento box I packed for her last Wednesday when she went to the
baking class
at
The Cake Connection
.
She only ate a small portion of it before the class because she was so excited about checking out the store. But she finished it on the ride home cos she was famished.
Bento #59 is 4 boiled cheese weiners on the right. That's skewered steamed edamame and 2 cherry tomatoes in the middle. On the left, that's her usual peanut butter sandwich cut out in her current prefered cookie cutter.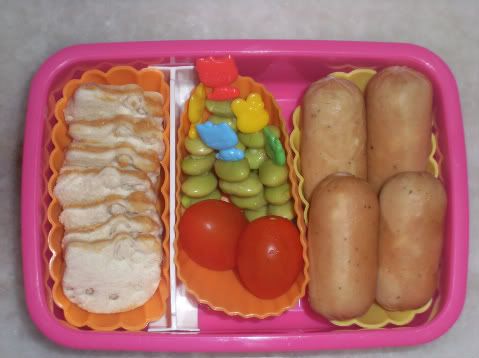 Will load up Ashley's Wednesday's bento soon.
Have a great week ahead, all !
Labels: Bento

---