"here" .For older bento posts, just click on the monthly archives at the side bar.
Tuesday, September 09, 2008
Bento # 67
This is Ashley's bento meal of today.
She is not feeling well today. She has cough and flu, so I thought I wait till she wakes and see whether she feels up to going to school. Work is out of question today.
Ashley usually loves school and would ask to go even if we didn't send her over.
She woke at 9.45 am and wanted to go to school. I figure that by the time she gets to school, her school's break time would be over since we are going to school late today. So I fix her this breakfast bento meal for the drive out to her school instead. It's a good 15 minutes drive to her school.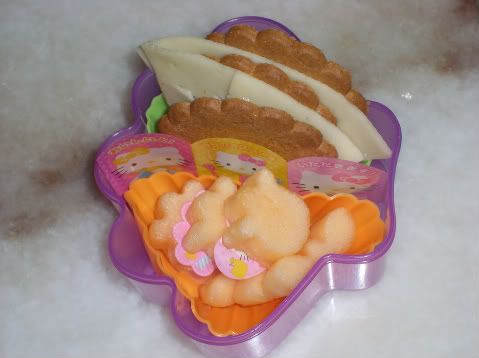 Its honeydew melon cut out in tulip shapes, with slices of cheese between ginger thins biscuits.
She loves these mild cheese from the Ikea cafe. I suppose its because its full of eeny weeny holes and she finds it fascinating?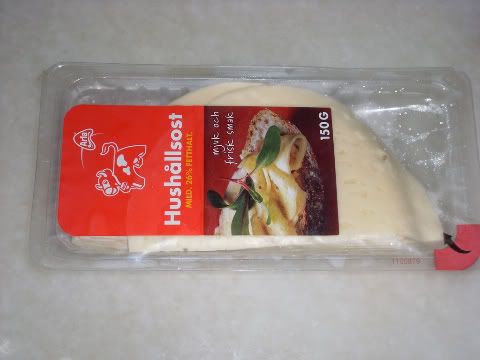 She only ate the biscuits by the time we got to her school. So I close the bento box and gave it to her teacher for her to finish in class. Then scoot over to
Jessie's
workplace to download pics into my laptop,
minum teh
with her, and got back just in time to pick Ashley up.
You can imagine how long we can chat! My, I have just discovered what a gurreat cook she is. She knows how to marinate satay, she can make mooncakes from scratch, make the mungbean paste herself, the red bean paste herself, the whole work !! Her chicken paste, chives, prawn stuffings for tofu pouch ....sigh..I was in gastronomic heaven just drooling over her pics. What pics? Those pics she had in her thumbdrive, lar. I had the liberty of scrolling through them with her explaining how it get done. Wow....am still wowing..ha ha.
Anyhow, I thought I picked Ashley up from school early today since she is not feeling too well. Went to Ikea, which is on the way home, for lunch with her, of which she ate nothing but brocolli. Sigh..she is feeling worst than I thought. So I left most of the food untouched and brought her home for her medicine and her nap instead.
Now that she is taking her nap, I figure I quickly load this up and send it out.
Have a great day today, all !!
Labels: Bento

---