"here" .For older bento posts, just click on the monthly archives at the side bar.
Tuesday, August 19, 2008
Ashley's Toddler's Bento #55
Friday
Toddler's Bento# 55
Ashley's bento for friday is simply one Kiwi fruit sliced up and peeled. I had stashed up some mince meat with mushroom and carrot wrapped in tofu skin, so I cut one in 3 parts for her and push those leaves foodpick through each one so it looks like a flower.
Sandra
got her sister to send her those bento stuff from the Daiso in the states and ask if any of us want to
tumpang
. Of course we do. ha ha. Thanks Sandra, been wanting those tulip and balloon foodpicks forever !!!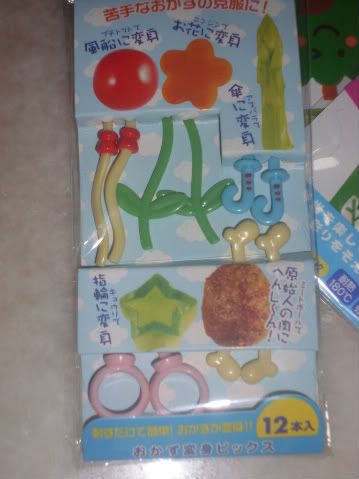 And just take a look at those
kawaii
musical notes cutter and those tiny little ones ! Perfect for itsy bitsy eyes and arms and stuff. All my cutters are cookie cutters that are way too big to do much with. I was so thrilled when I received the parcel.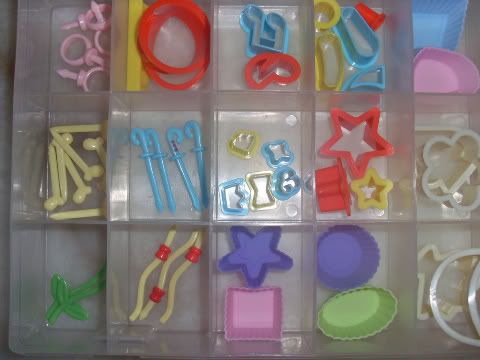 Anyhow, back to the bento. That's some toast cut into tiny star shapes at the back of the mince meat over there.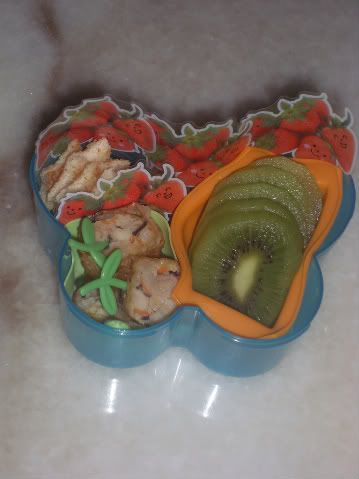 I think her teacher forgot to unpack her bento that day, or perhaps she was eating the school's food. Anyhow, I opened it up for her to eat on the ride home. She ate all the 3 pieces of tofu wrapped mince meat, the star shaped toast (soft by now) and ate only one slice of the kiwi.
However, Kimberly finished it up for her when she saw me placing it in the living room for Ashley to finish it up when we got home. Kimberly could eat 3 whole kiwi fruits in a day if I don't stop her. Her tongue gets stung if she ate too much kiwi.
Kimberly has a food fair in school Friday. She went to school with a bottle of water and RM20 for buying food she would fancy at those food stalls. She came home telling me 3 times that she had a terrific time. She also came home with a cookie for her little sister. I thought that was so sweet of her to have thought of her sister. Good thing she only spend RM5. I have been worried about her being spendthrift.
So that's catching up on last week's bento posts.
Have a great week ahead , all !
Labels: Bento

---