"here" .For older bento posts, just click on the monthly archives at the side bar.
Friday, September 12, 2008
hardly a toddler's bento
Bento #69
I didn't take a picture of Ashley's Thursday's bento box cos I left my camera upstair somewhere and couldn't locate it.
Haiyoh !
Anyhow, it was steamed plain
man tou
with watermelon and home made mince meat-balls.
No bento on Friday either since Ashley didn't go to school. She woke up in the middle of the night at 3 am and didn't get back to sleep till 6 am. So I thought I let her sleep in today and did not step in the office in the morning. She woke at 11.30am, giving me a good solid 4 and a half hour of quiet for working from home.
Since today is Friday, Kimberly gets home from school at half day instead of her usual 4pm. I have to be home by half day to receive Kimberly and I can't leave her alone at home, so on Fridays, I usually don't work in the afternoon.
However, I have a
sambung bicara
on Monday and Tuesday and had to prepare for the defendant's cross examination since my interpreter to the Plaintiff's witnesses told me at the last minute yesterday evening that she can't make it on Monday and all other interpreters that I knew of are taken up.
It's just in case the court allows us to proceed with the defendant's witnesses instead. Unlikely, but need to be prepared anyhow. Ashley has been sick the last few days and with MIL not here this week, I haven't had much work done.
So the moment Kimberly got home, I bundled both kids into the car to the office.
Packed this for our lunch in the office. It's one bento box for a big lunch for 3 of us instead of 3 individual bento boxes. Usually, I would just place the bento boxes in front of the kids when we get there and they eat themselves but it's hardly a toddler's bento today so I had needed to de-bone it and feed Ashley myself.
This is today's bento meal.
Bento # 69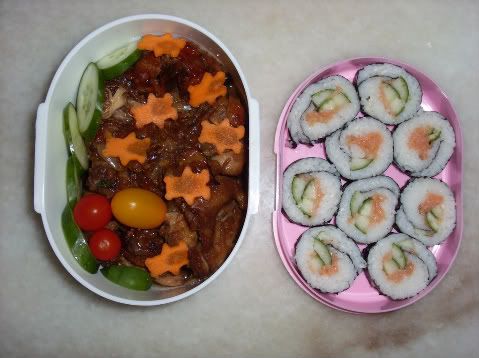 It's
kampung
chicken marinated in worcestershire sauce. I marinated them yesterday and this morning, add some salt, pepper and lots of chopped up onions, and some olive oil. Smeared some barbeque sauce on it and shove it in the oven.
I had chopped up those stuff yesterday and store them in the fridge in a lock and lock, so the roast chicken is a speedy affair. I added some honey 5 minutes before its cooked.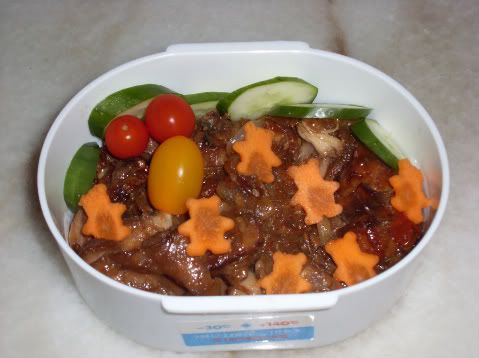 But I thought the dish look too dull by itself, so added some zucchini and carrot shaped teddy bears and cherry tomatoes.
The carrot shaped teddy bear is all the name of tempting my little ones into eating!
Someday I will just take out a cane, crook my arms on my waist and give my kids a threatening,
" Now, EAT !! or else !!!"
haha. It has got to be easier than this !
I made the sushi in no time at all. Well, what little time it took, it sure beat the time it took me to get Ashley ready for school, cajol her to take some breakfast, drive over to send her to her kindergarten, drive back, drive over pick her up and drive back wait for Kimberly. Sounds times consuming !
Anyhow, it's daikon, zucchini and salmon sushi.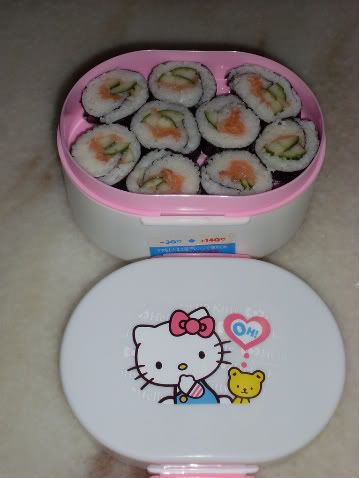 Put them all in this old bento box belonging to Kimberly. It's the only big one that I have. I found it at MIL's house where I used to store Kimberly's old stuff.
Bento boxes has came a long way, yea? Those of Kimberly that I have before are nowhere as pretty as those that I got now.
While Kimberly ate her sushi obediently (in my presence), Ashley unrolled it and peeled the rice and zuchini off the seaweed to eat it, making quite a mess. I am trying to ease the kids into eating sushi with seaweed.
So that's today's bento. Have a great weekend ahead, all !
Labels: Bento

---