"here" .For older bento posts, just click on the monthly archives at the side bar.
Sunday, September 07, 2008
Bento #64 and #65
We are at FIL's over this weekend and having loads of time on my hand, I thought I send out all the backlog bento posts in my draft box !
Bento #64
This is Ashley's Tuesday's bento.
No bento on Monday cos Monday was Merdeka holiday and we spend the weekend at Genting. Will blog about it later.
Genting
is our usual getaway over the weekends. The kids love the theme parks.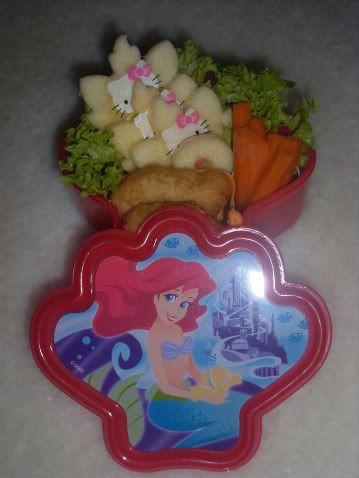 I figured the kids hasn't had nuggets for close to a month, so decide to fry some nuggets for Ashley's bento box.
Added a few slices of pear for her, and some steamed carrots.
She ate it on the way home cos she had her school's breaktime food and her school's lunch time food today instead of the bento meal.
Ashley usually comes home early from school if her granny is here with us over the week. MIL is here this week to help me with the kids so that I could stay longer hours in the office finishing up pending works.
Had to work my schedule around the kids all the time so had to rely on MIL to come down every forthnight or every 3 week or so to help out. Got a trial and some hearings lined up next week and needed some time to complete my preparation.
Hope my dear MIL know how much I appreciates her !
Bento #65
This is Wednesday's bento meal.
Ashley didn't go to school on Wednesday.
Actually, she didn't go to school from Wednesday right up to Friday. I figured she could stay at home this week and she can afford to sleep in late since her granny is here to oversee everything this week.
From the age of 2 1/2 year old, the poor dear had to wake up early every day to go to school, so that her mom could get some work done during the hours she is at school. I plan to be a SAHM when and if I do get a 3rd kid. No sign of good news anywhere for now.
Anyhow, with Ashley at home, packed bento for myself this week instead.
It's fried ikan kurau with unagi sauce. Slot some red peppers and zucchini at the sides for vege. In the little silicon cup is some tofu leftover from last night.
The rice is cooked this morning because I don't have any leftover rice. Top the rice with some furikake and some extra zucchini.
Haven't use this bento box for awhile so I thought I wipe the dusty cobwebs off it. Just kidding.
Okay, now to move this draft to a new post and publish it.
Hokay, and now to retrieve my kids from their cousins' house next door. FIL's sister lives next door and their "Koh Poh" has 3 grandkids around Kimberly and Ashley's age. So the kids spend their time next door a lot whenever we at at FIL's.
Have a great weekend, all !!
Labels: Bento

---