"here" .For older bento posts, just click on the monthly archives at the side bar.
Saturday, September 20, 2008
Bento #72
Wednesday was a holiday and the kids are off school.
Since I have time on my hand, DH gets a bento meal instead.
Fixed DH a bacon sandwich. Fried some bacons and layered the bacon with red peppers, yellow peppers, cheese, zucchini and carrots for the sandwich.
Bento #72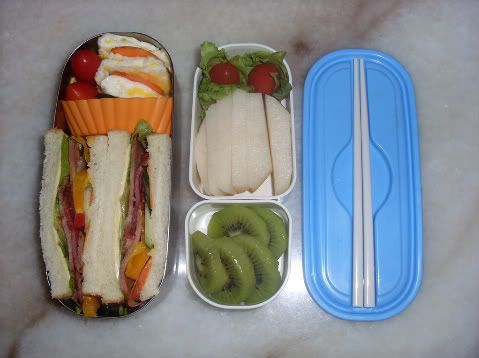 I also add 2 fried eggs at the side with more zucchini and carrots.
Notice that the orange silicon cup is placed sideway? I thought it would act better as a barrier from the sandwich against the grease from the eggs. I suppose I could use a baran divider but since I was already holding the silicon cups in my hands….. I also place another silicon cup beneath the eggs to catch the grease.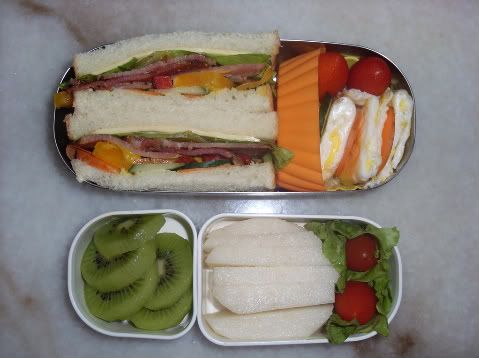 Since DH is not one for vegetables, I try to slot in as much fruits as I can. I added some pear slices and kiwi at the divided containers for him. Slot some lettuce and cherry tomatoes wherever there are gaps to stop jiggling during transport.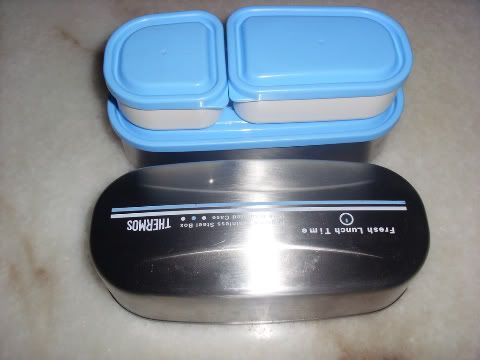 Everything goes into this bento box.
This is hubby's favourite bento box. I am hoping to get one of these thermal ones for myself. Hubby says it could keep his breakfast warm till he's ready to eat them. He is one who is more inclined to bento for breakfast but not for lunch. He prefers to have lunch with business associates or his cronies.
On that note, living in a hot climate like Malaysia, I am sure that most of us are already aware that bacteria breeds in hot environment.
Try to eliminate the right component for bacteria breeding, cool food before packing them. Bacteria thrives and multiply their breeding on hot environment. The food in its existing hot temperature (right after being cooked) is bound to be already too warm in itself to begin with. Bacteria multiply with the right component in lenght of time, heat, existence of food and bacteria.
Also, never leave your bento box in a hot pantry, in a school locker, inside the car, near the window within sunlight etc. Always try to keep them in cool or shady places. It helps if you pack a chilled or frozen drink or an ice pack with the bento box. Although I got the kids some ice packs, I have not seen the necesity to use them yet.
Ashley's teacher laeves her bento box in the kitchen, which I have checked, is cool (if not cold at times when it rains) because the whole school premise is air conditioned, including the kitchen. It wasn't a big school.
Kimberly's classroom is air conditioned as well. Besides, even if she leaves her bento in her schoolbag in her classroom, I have always made sure that her food are cooled before I packed them, and I try to add chilled fruits to go with it.
Hope that helps those who has been asking about bacteria related food safety. If anyone has more to share, I would love to know more, since I bento every day for myself and for my kids.
Labels: Bento

---