"here" .For older bento posts, just click on the monthly archives at the side bar.
Saturday, August 16, 2008
Kids' Bento #53 and Bento #54
Wednesday
Bento #53
This is not exactly a bento.
It's a treat that Kimberly ask for her breaktime because one of her classmates likes it the last time, and Kimberly promise to bring it the next day for sharing.
It's biscuit fingers, divided into 2 zip lock mini bags. Two mini jar of chocolate spread (I use Dove's brand) and some sprinkles for coating the chocolate coated biscuit sticks with. Those sprinkles are what I usually use for cupcakes but I also let the kids dip their chocolate coated biscuit sticks with these at home sometimes for a treat.
On the upper tier of the bento box is one cut out slice of pear and 4 cut out slices of apples. Why so farnee, wan? I can hear you asking. Ha! ha !
Kimberly woke early and got herself ready earlier than usual so she was with me in the kitchen. She ate those cut out pears as fast as I could cut them. I have ran out of pears by then and had to use an apple instead. So that's why there's only one cut out slice of pear and 4 slices of apples.
As expected, the bento box came back messy with sticky sprinkles all over. Fortunately, with that foresight, I had placed the bento box inside this lunch bag.
Good thing too, that the spilled sprinkles were contained in the bento box and did not even mess up the lunchbag.
I find this lunchbag really useful. It's waterproof with a velcro opening, and it could contained droplets from frozen bottled homemade juice really well. I sometimes pack some in these for long drives out to FIL's place.
Bento # 54 - Thursday's bento
Both kids have the same bento meals.
Bento #54 is rolled ham slices, cheese cubes, cube zucchini and yellow cherry tomatoes secured with foodpicks. I figure they both haven't had ham slices for about close to a month already so I packed that for the day.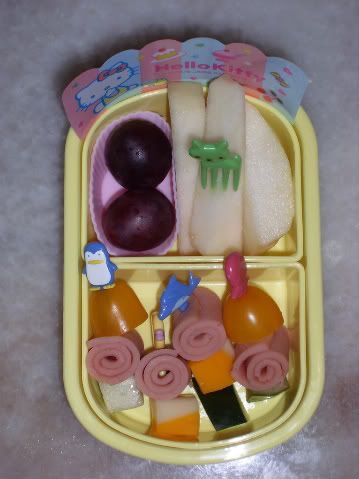 For Ashley, I added 2 grapes at the side and for Kimberly, I added 2 cherry tomatoes. At the side is half a Japanese pear cut into sticks.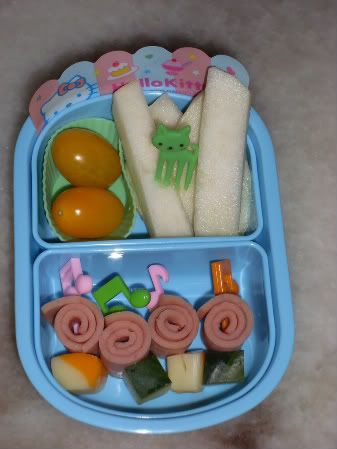 For some reason, Ashley prefer Japanese pears over normal pears. Perhaps its because Japanese pears brings out more juice than normal pears.
That's catching up on some of this week's bento posts.
Have a gurreat weekend, all !!
Labels: Bento

---