"here" .For older bento posts, just click on the monthly archives at the side bar.
Monday, September 22, 2008
Kid's Bento and Husband's Siew Ngor Bento
It's weiners for Kimberly again. She just had it on Friday. Guess I got to lay off weiners for the next few days.
Kimberly had asked for tuna sandwiches, but there were only 2 slices of bread left. So she gets only one sandwich.
Bento #75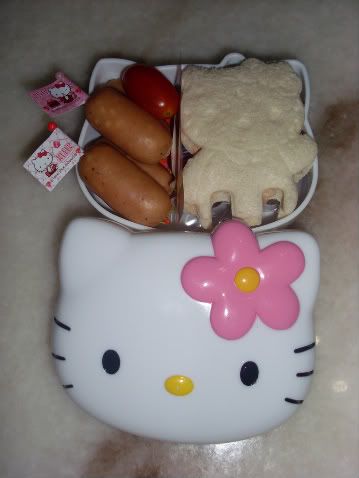 She had asked for kiwi, but I didn't want that one lone sandwich to get wet, so I got her weiners again.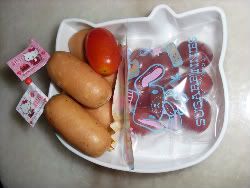 Slipped some grapes in a Cinnamoroll mini ziplock bag and hide it behind the Hello Kitty sandwich.
She complained that it wasn't enough to share with her classmate Vicky and asked me for more sandwiches tomorrow. So I guess tommorrow its going to be tuna sandwiches again.
Didn't have time to pretty it up for Kimberly since hubby asked for a lunch bento today. He is rushing some work and does not want to step out for lunch.
This is husband's bento for today.
It's
siew ngor
(vegetarian 5 spice beancurd sheet) bento today.
Bento #76
On the lower container is 3 sheets of
siew ngor
, with a soy sauce container wedged in sideway for a boiled egg that I place on top of the rice with furikake much later cos I was waiting for it to be cooled before peeling it.
MIL helped fry those
siew ngor
. Glad she had soaked them with up with paper towels, knowing that I usually does that for her son. haha. MIL loves to drown everything in oil, be it sweet and sour fillet, stir fry vege or tau yew bak.
My mom, on the other hand, is one who abhor unhealthy fats and I had picked that up somewhat from her. Even till today, my mom still chides me for putting on weight. sigh..Mothers being mothers, she never fails to remind me to be careful with my diet each time she sees me. I told her its not my diet but my lack of sleep but she won't have that as an excuse.haha.
Anyhow, back to bento, I stir fried some snap peas, carrot and firm tofu with oyster sauce. MIL tend to fry them way too soft and ummmm...messy looking? although she's great with
tau yew bak
(soy braised pork) and dishes like red wine chicken. I think elderly her generations just like their vegetables cooked through and through.
So I usually stir fry myself cos I like my veges to be firm. That's the tofu and stir fry vege in the upper container of hubby's bento.
I got hubby a new bento box. It came with a thermal bag. Hubby likes his food warm and he sometimes forgot to bring his bento box home.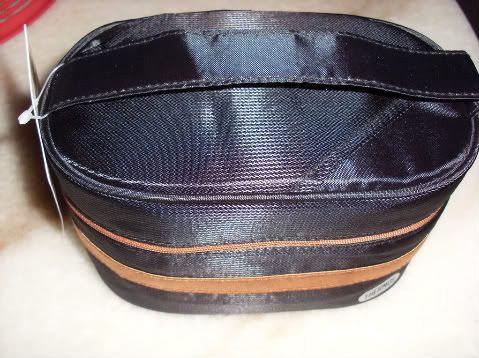 This here below is my bento.
It's similar, save for the ommission of tofu.
I added an apple for my breakfast.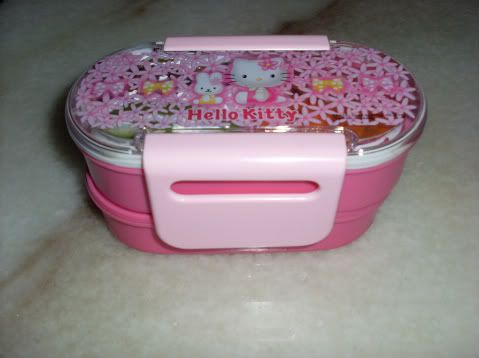 Snitched Kimberly's bento box cos mine are all from 100 yen stores and none are them are large enough. Most of mine are only about 530 ml capacity or so.
This one is easily more than 720 ml capacity cos its quite high and long.
Now that's today's bento.
And now to see if I can catch up on my tag homeworks.
Good night, all!
Labels: Bento

---