"here" .For older bento posts, just click on the monthly archives at the side bar.
Sunday, September 21, 2008
Toddler's Bento
This is Thursday's bento.
I thought I make use of these 3 sizes in one circle cookie cutters that I got from
The Cake Connections
.
Ashley had liked the cheese sandwich with the
star shapes
, so I thought I use circles this time.
She goes, "ha? bread doughnut, momma?" The silly toddler, haha !
She was with me in the kitchen and I had made another circle sandwich for her to chomp on while waiting for me.
Bento #73
Beside the cheese sandwich are 4 skewers of edamame sitting on a bed of Chinese lettuce. Ashley likes those edamame. She calls them "peas".
Kimberly also likes them, but more for the fun of squeezing them out of the edamame pouch than to eat it, I suspect.
I scatter some halved fishballs and sliced weiners at the bottom of the lettuce bed cos I don't think the bento box is going to fit a lot of those foodpicks. I only skewer 3 sticks of cherry tomato, weiner and fishball sticks for her. Good thing too, cos the bento box fit those existing ones just nicely.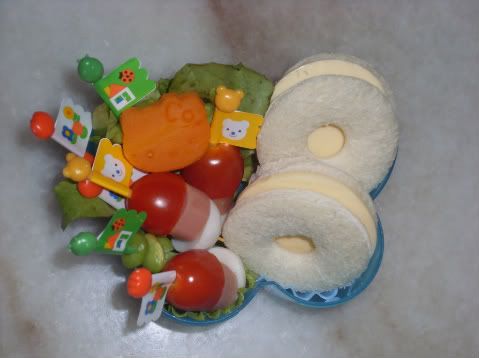 Since Ashley hadn't had weiners close to
two months
already, I thought should re-introduce it back into her bento meal in case she goes off it. Actually, fat chance kids will go off weiners, yea? But I don't want to take the chance anyhow.haha.
Kimberly has weiners
every now and then
though.
One thing useful about having posting daily bento posts, you get to keep track of your kids' diet. Ha ha.
Some moms doesn't like the idea of feeding their kids processed food like weiners, but I have no qualms about it. It is rather handy for speedy bento packing. And in time of need, rather to have her eating weiners than no protein at all.
With my first born, Kimberly, all food has to be closest from the earth. Not peanut butter but peanut, no strawberry jam but strawberry, no candies, no chocolates, no processed foods, vege and fruits has to be organic and so on and so forth. With my 2nd born, I have relaxed my regime somewhat. Heck, who am I kidding? I have relaxed my regime a whole lot !
Anyhow, to go back to bento, I steamed some carrot slices for Ashley. As I was cutting out 2 shapes with the Hello Kitty cutter, I know that the food is going to be a tight fit. But I thought I give it a shot anyhow. Only one goes in there. It's looks more ornamental than to play a part in the 3-2-1 bento proportion. Ha Ha.
So, stuffed the rest of the steamed carrots in a lock and lock container and stow it away in the fridge for tommorow's bento instead.
Will try to post Friday's bento soon. Have a great weekend, all !
Labels: Bento

---