"here" .For older bento posts, just click on the monthly archives at the side bar.
Wednesday, January 21, 2009
Hatching Chick Bento
Bento #112
This was last Thursday's bento. There isn't any bento meals on Wednesday because I was late for court. I had to go in office to get some stuff so had to leave the house really early and left the kids to hubby's "good hand". They both made it to school ..haha..it was a relief to know. Besides, Kimberly would be having pizza from her school's lunch anyway so she is bound not to "starve".
Kimberly didn't get a bento Thursday because she requested to buy from the canteen like her friends does.
So, this is Ashley's bento.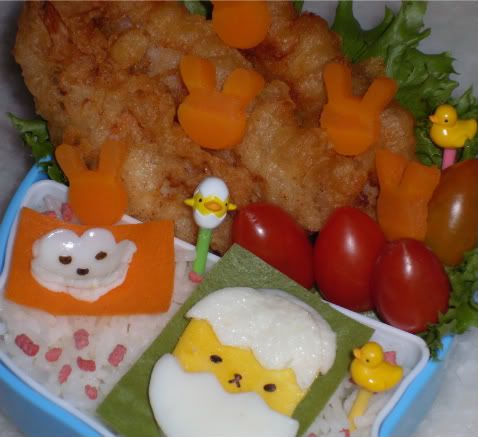 Because I know that she hasn't been having much protein in school lately, I thought I top it up with some of her favourite prawn fritters for her lunch instead. They would be having fried rice, which Ashley doesn't fancy, so I gave her some white rice for lunch.
I topped the white rice with a hatching chick for her viewing pleasure. Haha.
The hatching chick is really quite simple to make. Just segregate the white and the yellow from an egg and put both in seperate ceramic bowl and dunked it in the microwave or the steamer till its just cooked. Then cut. haha.
Ever since I set eyes on this cutters that I got from CP, I knew that I wanted to do a hatching chick bento.
Isn't this cutter just the perfect shape for egg shell?
It even come with an instructions book on how to make faces !! Kimberly would have love these little girl faces !!
The cutter didn't offer the inner shape for the egg yolk, so I use a cicle cutter and trim it down the sides to fit the eggshell.
CP's cutter has this puffy little cloud shape too, which I just love, hence I fix Ashley one little Ms cloud to accompany Little Chick.
Oh yea, be mindful not too overcook the eggs, else it will curl up like Ms Cloud's tail ends over there. If you use a smaller bowl, you get a nice thick egg white, but I hadn't wanted to dig out the small bowl since the larger one was within reach. The egg white didn't turn out nice and thick, but long and thin. I had to top them up double instead.
I sat them both on cut out pieces of lunch sheet for easy transfer and to distinguish the whites from the rice.
As usual, I topped the bento meal with cut out carrots, since both my kids are those for carrots. Instead of scattering my usual teddy bear carrots on top, it's little bunny carrots this time. The teddy bear cutter was the only cutter I have small enough for carrots *grin* till bunny cutter came along. Got those bunny cutters from 100yen shop a few weeks back. Man, I was happy when Chooi Peng told me about them. Grab one for myself and one for CP and just as well too, cos they were all sold out like the next 2 days itself.
Once you get into bentou-ing, you have an idea of what kind of food you can fit into the shape you that wanted to create on your bento meal,and it keeps getting easier and faster. If you check those Japanese mom's blogs, its always the same stuff, ie, egg for anything yellow or white, (unless you colour them), vegetables for any trees or plant creations, quail eggs or any round food for characters. After awhile, you catch on and you get to know what you can create out of a character or an object. The ideas are more or less the same. The only modification is that you suit your pantry and the stuff you have in your fridge to fit into them. Sounds simple, yea? *grin* It is, truly. Haha. Hope this will get you guys on the track to kyaraben bento every once in awhile. It really is only another 5 or 10 minute's extension of your time.
Happy bentou-ing guys !! And have a great week ahead !!
Labels: Bento

---