"here" .For older bento posts, just click on the monthly archives at the side bar.
Monday, January 19, 2009
Moo Cow Bento 1
Bento #110
Boy, am I late in updating my posts, haha.
It has been a busy weekend. We spend Saturday sending Kimberly to her various classes, and with the limited few hours we have left, we attempted to get a dishwasher from the Harvey Norman sale. There isn't any washer, so hubby ended up getting an LCD for his dad.
After dropping off the huge box back home, we had to quickly run over to Eu Yan Sang at SS2 to get a hamper for hubby's friend's housewarming party and fortunately, did not turn up too late for the occasion. And it is such a lovely house too.
I also had the occassion to meet a lovely young girl,
Yishen
(hope I spelt it right), at the housewarming party, who recognised Ashley and Kimberly and told me that she read my blog. It is so flattering to know that you do actually meet people who read your blog. haha. If you are reading this today, it was nice meeting you, dearie.
After the housewarming party, we took another 3 1/2 hour drive back to FIL cos hubby had needed to settle something at the branch office.
We got back here past midnight from FIL's place just now and I have just finished unpacking and getting stuff ready for the kids' schooling tomorrow. Sigh..these few weeks has been hectic. Sometimes, I find myself setting my alarm clock at 3am just to get stuff done.
Since I am still wide awake after getting back from FIL's, I thought I post this up before the little one frets for me in her sleep again.
This was last Wednesday's bento.
This is my first moo-cow attempt. In later posts, you will see that I have tried plenty last week.haha, just bcos moo cows are so adorable! Will post them later when time permit. Sorry for the bento backlog, guys !
It's Kimberly's bento. It's 2 pooh bear moulded rice beneath the moo-cow.
The moo cow is made of cheese (what else? haha) and patches of seaweed over its eyes. Egg sheets made up its horns and its noose.
The eyes and nostrils are seaweed cut free hand. Just simply snip a cicle into half for the eyes and elongated triangles for the nostrils.
The moo cow was supposed to be sitting atop 3 equal size spam slices but Kimberly had strolled into the kitchen and plucked them off the chopping board to eat them without my awareness. So I had to cut out an orange coloured lunch sheet that I bought from
CP
to sit the moo cow on. haha. I tried a bit of the lunch sheet. It taste slightly salty but not much flavour otherwise.
There are 3 other spam slices on the right hand side beneath the cherries.
I added her favourite fruit of the moment, mandarin oranges, adorn them with more lunch sheet cut outs and slot some grapes to fill in the gaps.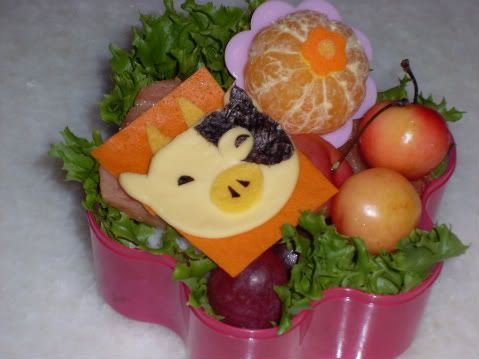 Kimberly ate everything except some lettuce and I kind of suspect she shared some with a classmate. However, I don't mind since I like her to have some space in her tummy later come lunchtime 3 hours later.
Okay, going to hit the sack now.
Hope its not black monday tomorrow ! haha.
Have a great week ahead, guys !!
Labels: Bento

---