"here" .For older bento posts, just click on the monthly archives at the side bar.
Friday, November 21, 2008
Weiner flower bento
I have been wanting to do the weiner flowers for a long time now. Finally had the chance to do it today. I have always been dumping frozen wieners into the pot to boil instead of cutting patterns unto them. On the days when I have the presence of mind to take it out for defrosting, there isn't time due to waking up late or time used up in other stuff like frying or cutting.
Today I have plenty of time to take them out for defrosting … hee hee …it being school holiday… so, today's bento-s meals are flower weiners bentos.
This is Kimberly bento lunch. Kimberly's bento picture first because her wieners turned out better. Haha.
Bento #102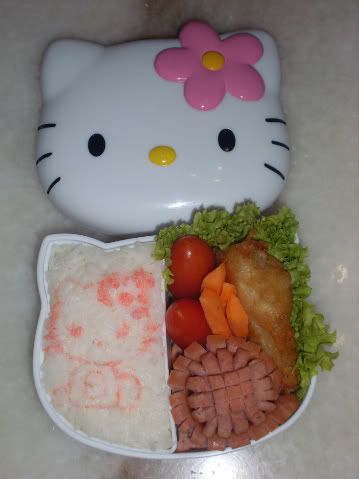 Kimberly has her weiner flowers in criss cross cuts.
She also has a deep fried baby shark nugget at the side, with some carrots (raw, cos sometimes its nice to crunch) and 2 tomatoes.
She has rice to go with them.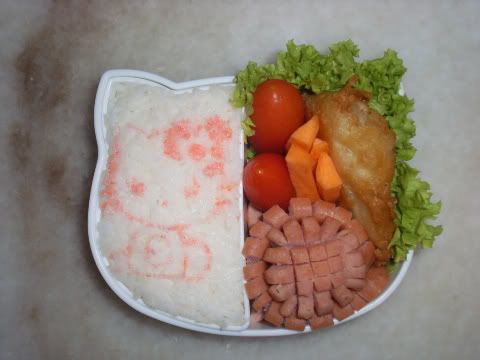 I stenciled a Hello Kitty print on top of her rice with sakura denbu cos Kimberly likes pinks. I am thinking that pink looks too pale, so perhaps I will use a deeper coloured furikake next time instead.
This is Ashley's weiner flower bento meal.
Bento #103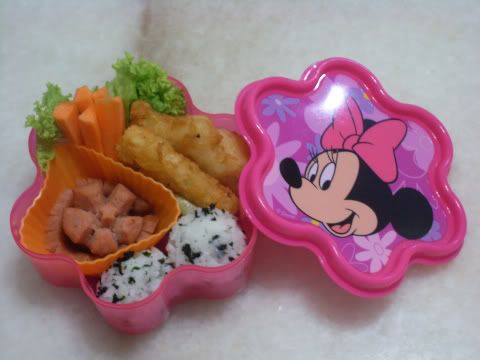 Hers has a star shape in the middle. It didn't turn out so well. I cut them too deep and the weiner branched out too wide.
Ashley has a deep fried baby shark nugget too, with a lone hash brown at the side.
I fried 3 hashbrowns and was thinking of just giving her hashbrowns and fruits instead of rice but change my mind and gave her riceballs instead. Hence, I only put one hash brown instead of all 3. Hers wasn't tightly packed so I carried the bento boxes level to the car and placed them on the car seat while I was driving instead of dumping the bento boxes into their backpacks like I usually do.
Ashley has some raw carrots at the side too. Sometimes the kids eat carrots raw while I was chopping up vegetables to stir fry for dinner.
Kimberly and Ashley had their bento meals in the car after I picked Ashley up from school cos both kids followed me around running errants today.
Kimberly already had breakfast at the Toyota service centre this morning when I send in the car for mobilisation.
The service centre usually have nasi lemak, curry puffs, doughnut and biscuits and the usual coffee, tea and milo for waiting customers. One woman snatched up all 8 doughnuts for her lonesome self while I was standing in line behind her. Gee, can't she leave one for my little girl? I had to wait awhile before they replenish the food so Kimberly could have something to eat. Should have packed a bento meal for her before servicing the car instead of afters cos there isn't any food place for miles around.
Anyhow, I gave Ashley a bento meal today just in case she didn't eat a lot for lunch in school and so that I needn't have to run around looking for food for her while running errants.
She doesn't take much protein or fruits in school and would pick up any protein food from her bento box in the car when I offered them to her after picking her up from school. I usually pack fruits and protein food for her instead of carbo, unlike today.
I prefer to feed the kids in the car cos they are more minded to eat them for lack of things to do.
The only trouble with feeding in car is, I need to vacuum the car very often and shake out the seat mats after every meal. It's worth the trouble so long as they get food in their tummy.
It's Friday again..the week past by so fast and I haven't even gotten much work done. Time flies by so fast as one gets older. Or is it just me?
Both kids are tuckered out and are taking their naps. It is hard work tagging along their mom running countless errants...cos they practically had to run after me on the sidewalks to catch up. haha.
Have a great weekend all, and happy bentou-ing !
Labels: Bento

---