"here" .For older bento posts, just click on the monthly archives at the side bar.
Thursday, November 27, 2008
Miss Bunny Sandwich Bento
Bentou-ing has slowed down the last few days in view of the school holiday. I must admit it has been grand being able to sleep in till 8 everday instead of waking at 6 to fix the kids' bento. It was because I had needed to get Kimberly ready for school and her bento box, if any, need to be out by 7 too. And Ashley's bento was packed at the same time although she needn't be out of the house that early but might as well while I was at it.
However, since Ashley is now enjoying having the same food as her schoolmates, I didn't want to be a killjoy. I decide to pack bento her only occasionally and for out and about instead. And perhaps for lunch.
Bento #106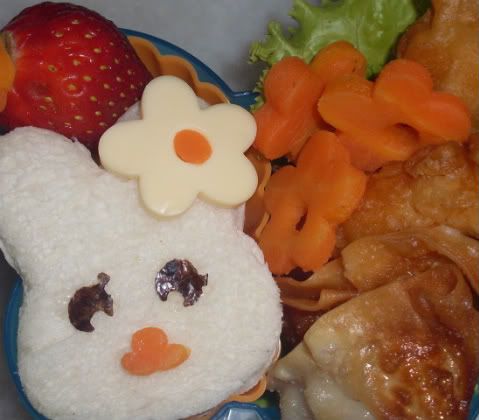 This is Kimberly's lunch. During the school holidays, she had needed to go into the office with me every now and then and it makes sense to pack her a bento meal instead of spending time ta-pauing and pouring them out on plates or bowls.
Encouraged by the earlier
Miss Piggy bento
, where I have discovered that cutting out details didn't entail that much time after all, I decide to fix some features on her sandwich as well. This took me an extra 5 minutes only, but doesn't the extra 5 minutes make a huge difference to her otherwise normally featureless bento!
Kimberly is having 2 large prawn fritters and 2 gyoza (also fried, to ease the workload. I added some carrots in the steamer while frying the food, and cut out the bunny sandwiches.
Those are cheese bunny sandwiches. I figured the cheese can make up for the lack of dairy in her diet the last few days.
Her Miss Bunny has nori sparkly eyes, carrot nose and cheese hair bow.
Since Kimberly likes carrots a lot, I topped the bento meal with a few more floral carrots.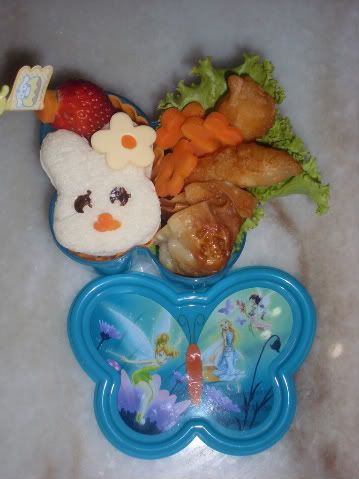 Added 2 strawberries for fruits.
It is rather pleasurable to see the kids' expression of enchantment when they open up their bento boxes, particularly after their Miss Piggy's bento. I probably will endevour to pack more kyaraben bento for her from now on, with time's permit, of course.
Happy bentou-ing, all ! Have a great week ahead !
Labels: Bento

---