"here" .For older bento posts, just click on the monthly archives at the side bar.
Monday, November 24, 2008
Bento #104
The contractor is here fixing the plumbing. It is a major fixing up. Our next door neighbour is equally affected. And this from a reputable developer some more !
Sigh..this is going to take a whole week !!
Anyhow, in view of contractors walking in and out of the house, I will be working from home the whole week. It is rather disconcerting with the drills, but what to do.
Kimberly has been complaining whole day. "I can't hear", she yell in frustration when she can't hear the t.v. She shouts, "Abang, can you keep it down already?" over the roars of the drills, with me shushing her in shame of her lack of manners when she tried to talk on the phone with her Ah Kung. Just a few seconds ago, she ask, "Uncle, how long will this take?" The
lau pan
laughed and say, "this is only the first day".
Sigh.... the poor kid.
And the maid, she has been playing eyes with the Indon workers whole day, walking out and about and around them, busying herself with irrelevant tasks. Sigh.. nothing is getting done.
I send Ashley to daycare for the whole week so she could nap in peace in the afternoon.
Having time on my hand, I decide to fix Kimberly a bento instead.

Bento #103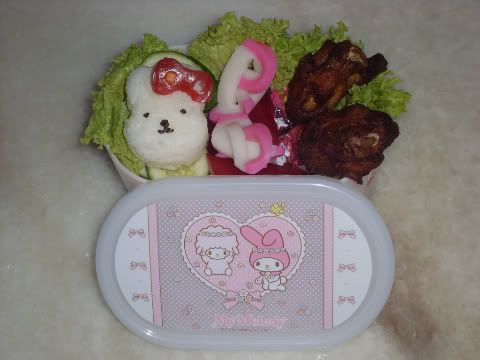 It wasn't supposed to look like this. It has 4 kamaboko on top covering all the vacant spaces. But Kimberly couldn't wait and ate 2 before I returned to the kitchen with my camera.
Hence the sparse top.
Kimberly's bento lunch is 2 teddy bear moulded rice with water apple ribbons. I segregated the moulded rice with slices of zucchini.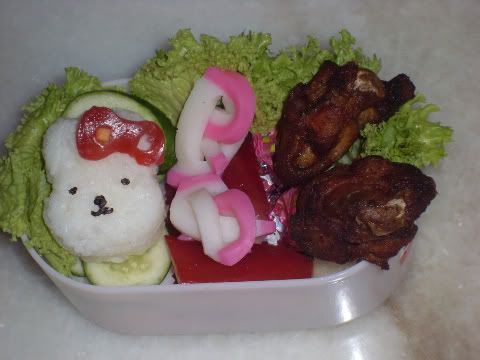 Thare's 2 fried chicken drumlet wrapped in Hello Kitty aluminium foil at the bottom. I filled up the gap with thick chunks of water apples and top them with 4 kamaboko. Now left 2. haha!
This was going to be a quick post, so will pen off now.
Aarrgghhh..drill..drill..drill..will it ever end? And this is the first day, no less !!
Anyhow, happy bentou-ing, folks !
Labels: Bento

---