"here" .For older bento posts, just click on the monthly archives at the side bar.
Tuesday, November 25, 2008
Miss Piggy and Mr Meatball Bento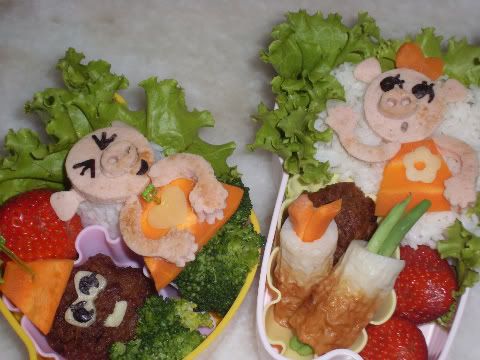 Kimberly will be going to my mom's place today. My mom wants her to stay the night so that she can coach Kimberly on her mandarin but I wasn't ready to let her spend the night out of home yet. haha. So we shall see if my mom won the battle or me.
Kimberly has been excited about spending the day at her cousins' place and has been packing her clothes, books and toys whole night. And..haha..junk food too.
I know she won't starve at my mom's but I packed her a bento meal anyhow.
Bento #105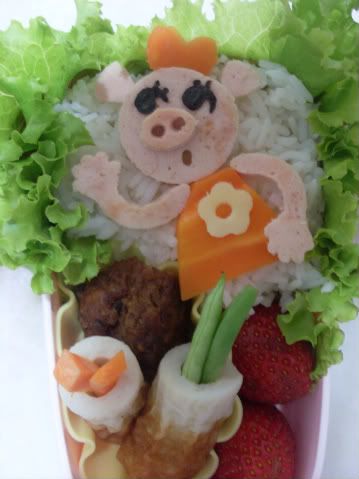 This is Kimberly's bento lunch. It's rice with a huge fried mince pork meatball on the side. I shape them big so that they fit into bento box better. Those tiny ones tend to roll all over the place taking up level surface.
I also added some
baisho chikuma
stuffed with carrots and beans. I love these stuff. It's really nice and crunchy when you roast them in the oven. I didn't roast them this time but boil them instead cos Kimberly has a painful ulcer in her mouth and I didn't want to encourage too much fried food. That fried meatball is
heaty
already in itself.
Since its school holiday and I have time on my hand, not having to rush for the 7am out of home bento box, I have some fun with ham slices and carrots.
I finally made use of the punchers and cutters I got from Veronica of NST. I got them as early as March and have never made used of them. It's been 7 months now. Time to brush the cobwebs off them. haha.
I made little piggy faces with the ham and use steamed carrots for the little dresses. Added a carrot ribbon on top of Kimberly's Miss Piggy and a cheese flower on her little carrot dress.
Stuffed some strawberries at the side to fill the gaps.
Bento #106
This is Ashley's bento lunch.
Ashley has a pooh bear moulded rice with blanched brocolli. And one lone mince pork meatball. I added a carrot hat for her meatball and some sparkly eyes.
Added a cheesey smile on top of Mr Meatball to accompany her Miss Piggy. The hat keep falling off so I had to secure them with a food pick. Fortunately Ashley wasn't one who fiddle with foodpick as heard of other kids. She would pluck them off her food and put it outside the bento box. So far so good, I haven't lost any foodpicks yet.
Ashley's Miss Piggy has squinty eyes and a cheese heart adorning her little carrot dress.
I gave Ashley only one strawberry cos she didn't like them as much as Kimberly does.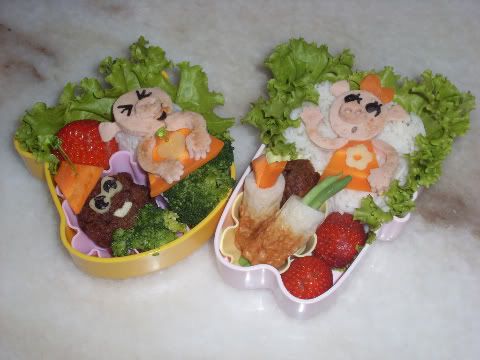 I love having time on my hands. You can do so much ornamental little touches to a bento meal.
Happy bentou-ing guys ! And have a great week ahead !
Labels: Bento

---