"here" .For older bento posts, just click on the monthly archives at the side bar.
Tuesday, November 11, 2008
Fish Fingers Bento
Bento #99
This is Monday's bento. It's Ashley's bento.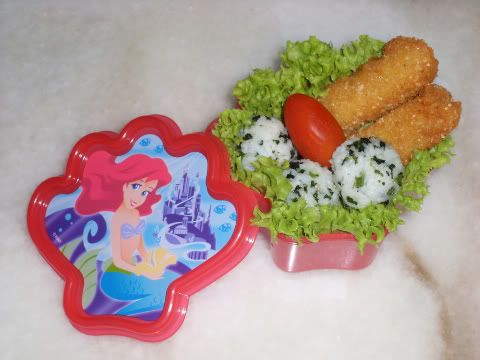 I haven't time to do much but put 2 fish fingers in the fryer. I have already cooked rice that morning for my lunch bento, so I decide to make use of the rice for Ashley's bento.
So, Ashley's bento is a simple bento of riceballs and fish fingers.
And a lone tomato!
I like to keep her on the tomatoes now that I have discovered that a lot of my friends' kids don't take to tomatoes very well.
Since she has caught the habit of eating tomatoes from Kimberly, who is the sort who doesn't mind plum, peaches, berries and tomatoes as oppose to sweeter fruits like apples and watermelon, I didn't want Ashley to go off the fruit. Oh, er, vege, haha!
I took Ashley off school on Tuesday to catch Kimberly's school concert so there isn't any bento meals on Tuesday.
Kimberly had her school concert on Tuesday and Wednesday. I have absolutely forgotten about her concert. If not for a phonecall from her classmate's mom, Sue, the day before, you can bet I would have completely and totally missed the concert.
Kimberly is one of the lantern girls in the Mulan performance. Will blog about it in
my other blog
when time permits.
Didn't pack for Kimberly on Tuesday either cos it didn't seem practical, with her not being in her class most of the time. I told her to eat the school's lunch and gave her some cash for breaktime food instead.
Ashley's teachers has been encouraging me to let her have her break time food with her schoolmates, and I think it may do well for Ashley to learn to be not so picky with her food. I can always top up on her nutrient at dinnertime or tea time.
I probably may be more inclined to pack bento meals for Kimberly from now on instead. I mean, when school starts.
She seems to be getting lankier and lankier right before my eyes. I have been neglecting her.
I probably will just do a bento meal for Ashley for outings instead, or every other day or so. That will save me the morning rush every so often.
The daily 6am wake to pack bento meals is just about taking its toll. I would love to be like some other moms, packing meals at their leisure instead of rushing for the the 7am timeframe.
That would make packing bento more fun and not to say, decorative, cos the "ornamental" part takes time. haha. Hope to have more time for that soon, since I could now delegate the washing up and cleaning of kitchen to the maid, who seemed to have improved a bit. Still slow, but at least the maid is not reading magazines, writing letters, watching tv and/or napping in the toilets anymore. So we shall not be terminating her for now.
Happy bentou-ing , folks !
Labels: Bento

---