"here" .For older bento posts, just click on the monthly archives at the side bar.
Monday, June 23, 2008
Bento #18
This is Kimberly's bento of today.
I made onigiri for her yesterday with moulded eggs for dinner, because I got some unagi from Jaya Jusco and I thought it would be nice to go with it. She ask for it for her bento today. But we finished the unagi yesterday, so she has only onigiri and eggs.
These are Hello Kitty moulded eggs sitting on a bed of lettuce. She ask for two. She has never been able to finish more than one at any material time but just to humour her, I made two. Just so she wont opened up her bento and exclaimed,"Why is there only one?" in my absence in the school canteen later. I expect to get one returned today unless she gave it away to one of her classmates in the canteen later. I also include 2 soy sauce containers for just in case, a Hello Kitty pink one and a carrot one.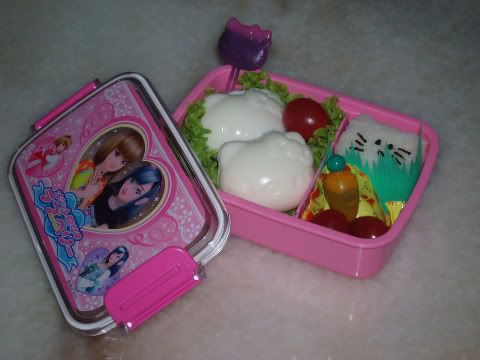 On the side are some cherry tomatoes, courtesy of her grandad who got them from Cameron Highland last week. And 2 slices of onigiris with seaweed I punched out of the Hello Kitty onigiri tool kit's nori puncher. Didnt do such a good job cos I wasnt deft enough with my chopsticks. The onigiris are on top of each other, seperated with a Hello Kitty baran.
I wanted to add some salmon Hello Kitty ribbons on the onigiri but there isnt time cos she was late for school. Ashley frets a few times while I was preparing Kimberly's bento and I had to leave the kitchen to tend to her and pat her back to sleep. If she wakes before the bento is done, I will never get anything done cos she will be clinging to me for at least half an hour.
Okie dokie, now to get Ashley ready for school. As usual, there isnt time to post Ashley's bento so will probably do that later at night when Ashley goes to bed.
Have a great week ahead, everyone !
Labels: Bento

---