"here" .For older bento posts, just click on the monthly archives at the side bar.
Thursday, June 12, 2008
Pooh Bear 3D chocolates
Before i load up the bento accessories, i will just put this quick one up. Also because
Cheong
wants to see how to get about doing it.
We are talking about 3D chocolate moulded figurines.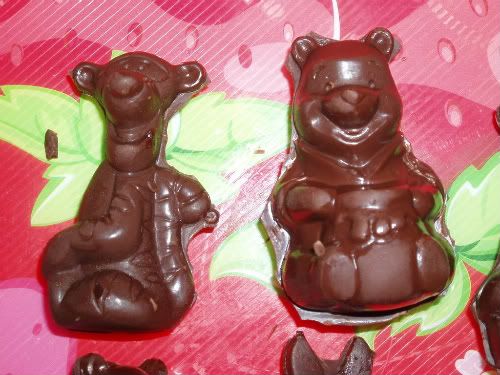 You put chocolate chips into a microwaveable bowl and halfway through heating them up, you take out the bowl and stir. Then before the chocolate start to bubble, you take it out and stir again to even it out. If you leave it in too long, it get all cakey.
Then you just pour them into these moulds, and the excess will be squeezed out through the holes at the back of the tray. I didnt take any pics of that though.
When it set, you just flip them out.
One mould makes 6 figurines
If you have some aluminium foil in your kitchen, you could wrap them up individually like these, and the kids can take them to school as a treat. I slip one into Kimberly's bento boxes sometimes. will post up pics of her bento's when i have time later. I just got a few more hearings to get out of the way this month.
These are the foil-wrapped Hello Kitty and Pooh Bear chocolates. You can get the choc moulds and the foils from
NST
. The Hello Kitty ones are those that I made last week with the kids but didnt take pictures of.
Have a great week ahead !
Labels: Bento

---