"here" .For older bento posts, just click on the monthly archives at the side bar.
Saturday, June 21, 2008
Bento # 17
This is Ashley's bento of yesterday. Didnt have time to post it up yesterday cos I worked late. Got home only in time to cook, feed, bath the kids and send them to bed.
This is a simple toddler's bento.
It's buttered corn, unsalted. Father in law bought some corns the other day. I think they call it "cyrstal corn" in chinese? Because of the speckles of light and dark corns? I deshucked them and steamed them in the wok. They are so much tastier than our regular corns. Ashley simply loves corns !!!
Those on top of the corns are slices of cheese cut into Hello Kitty shape.
Inside the green container are tiny slices of plain wheat bread, home baked, cut into Hello Kitty shape. I didnt imprint them hard enough. Besides, the imprint are usually not noticeable unless you sanwiched them between spreads.
On the outer side of the divided container, some cherries that her grandad bought for the kids.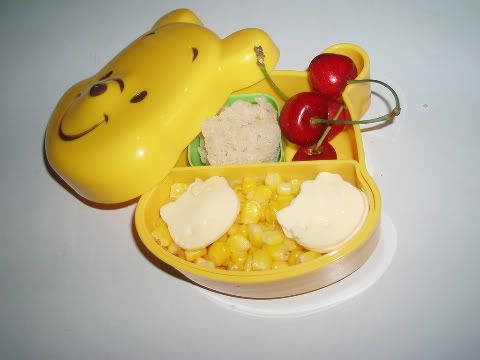 Since I had included a note of reminder for Kimberly, I thought that it is prudent for me to include a note for Ashley's teacher as well.
Ashley take the stones out of the cherries herself when she eat them at home, but with my supervision. I thought I remind her teachers to keep an eye on her as well.
Have a great weekend, all !
Labels: Bento

---