"here" .For older bento posts, just click on the monthly archives at the side bar.
Sunday, June 15, 2008
of Bento tools and kits - part 3
Following my
below post
where I said I would put up the stuff I got from
Veronica of NST
, these here are the new addition to my stash !
Sauce pens !!
I have been wanting these forever. When I first read about it at some other international online bento sites, I had thought that it is going to cause so much getting them from ebay, cos shipping cost from ebay is so hefty. I was glad when Veronica finally got in some bento accessories instead of just cutters and moulds.
Oh, yea, for those who were wondering. Sauce pens are to be filled with mayonaise, ketchups or chocolate sauce and useful for drawing eyes, mouth or whatever you like over food like octopus weiners, Pooh Bear shaped ham pieces, Hello Kitty shaped pancakes etc.
Thomas the train cookie/sandwich/vege cutter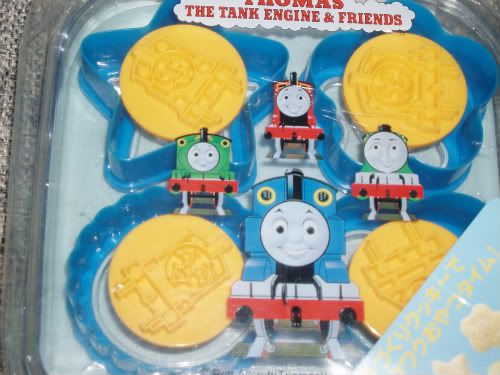 Hero cookie/sandwich/vege cutter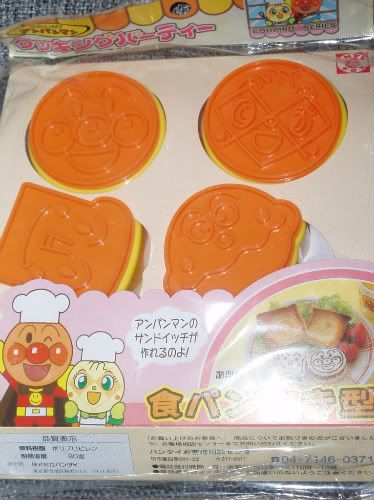 Huge bread size cutter
This here is a seaweed sprinkles stencil moulds and cinnamoroll stencil to go with my cinnamoroll rice mould. A quick way to dress cinnamoroll onigiri up.
Hello Kitty ice lollies moulds and Doreamon rice mould besides it.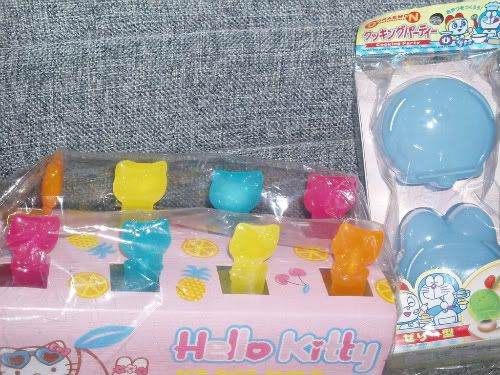 We do a lot of home-made ice lollies at home. Sometimes with fresh juice, ie. orange layered with apple juice with a melon piece in the middle for ornamental purpose, sometimes just plain orange pop, sometimes ribena lollies and sometimes fruit flavoured yogurts or fruit flavoured milk.
When Ashley was younger and i had abundance of expressed breast milk, i used to fix "momsicles" or "breastmilk popsicles" for Ashley. It's actually ice lollies made out from expressed breast milk. I had gotten the idea from kellymom's breastfeeding site ,
Kellymom
, which is in turn, linked to the recipe at
Mother-2-Mother
.
These here are the last of the orange flavoured yogurt ice lollies.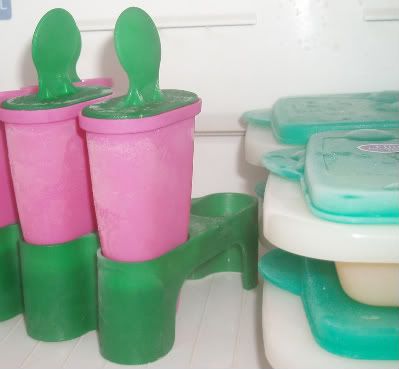 Will make more when we have some family time (ie no kids homework, no immediate house chore pending) On the left to the ice lollies are trays of home made orange juice, pear juice and apple juice. I prepare trays of them on Saturday mornings to last them the whole week cos I dont have time over the weekdays to peel fruits and juice them.
Cant wait to use the Hello Kitty ice lolly sticks. Kimberly is just going to love them !
Oops, sorry to digress. Back to bento !
This here is a Marie-the-cat's cookie/sandwich/vege cutter.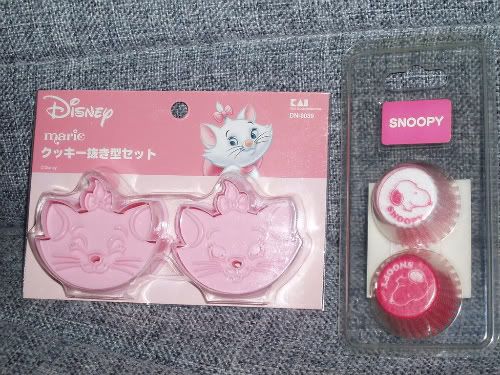 The Snoopy cake cups on the side for cornflake chocolate balls that i promised Kimberly she could do by herself with Kakak's supervision when i am not around on the days she is bored.
These soy sauce containers, I dont really need, but I couldnt resist them because they are so much cheaper than what i got from ebay
This here is a a Hello Kitty pan.
I took so long baking one batch of Hello Kitty mini cakes from the lone pan that i have that I decide to get one more to speed up the process.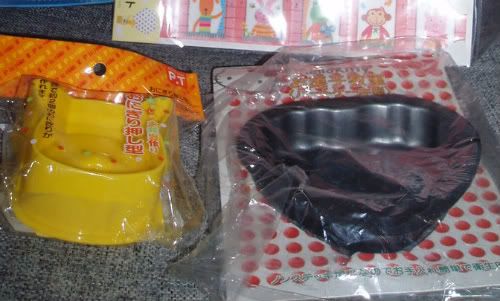 Besides it is a Pikachiu rice mould. I buy a lot of rice moulds to double them up as food cup inside the bento box.
This large sheet here is a one cut 25 shapes cookie cutter
Besides it is a car shaped sandwich/cookie cutter and some baran divider. Some boy shape cutter for when we have visitors for the day or over the weekend. A friend came over and her little boy ask if we have car shaped sandwiches instead of Hello Kitty ones. ha ha.
This one is a gem !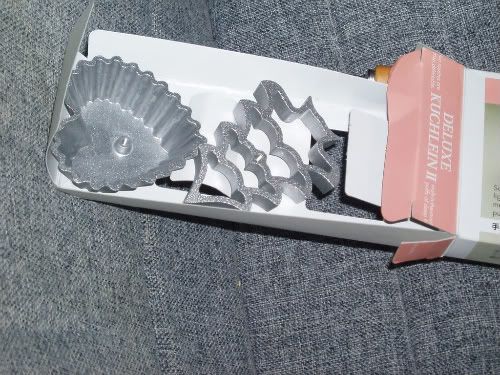 You can make lots and lots of heart shaped shells with them and then just add fillings into the cups.
I dug out these recipes on
Swedish rosettes
and
fried rosettes
from Recipezaar and I am so going to make myself a stash of heart shaped cups to freeze for quick bento fix for the kids.
Finally, just what i have been waiting for...
Printed aluminium foils !!!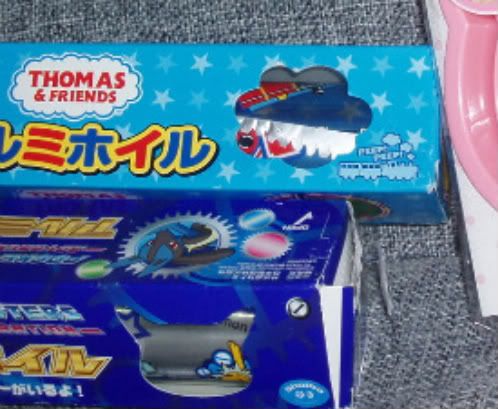 I made some 3D moulded Hello Kitty shaped chocolates sometime last month and I found myself wishing I have some pretty foils to wrap them over for Kimberly to suprise her when she got home from school.
So when I saw Veronica putting this up at her site, I snapped up 3 rolls right away. They were also useful for wrapping Kimberly's fistful of "mushroom-head" chocolate coated stick biscuits in. I got them at that Japanese grocery store at One U but one pack is too much for her to finish, so I only give her a fistful each time, wrapped in foil.
I just place the ball of foil in her bento box together with her sandwiches. It kept the biscuits crisp till breaktime and it keep the chocolate contained in its cool enclosure inside.
Anyhow, after receiving these from Veronica that day outside
Kidsport
at One Utama, the very next day itself, me and the kids made some
3D moulded chocolates
again. This time, in Pooh's mould. And this time, I got those foils to wrap the chocs individually in with.
That's all for now ! Happy Bento-ing, folks !
Labels: Bento

---