"here" .For older bento posts, just click on the monthly archives at the side bar.
Thursday, June 19, 2008
Bento #14 and Bento #15
These are the kids bento of the day.
Bento #14
- Kimberly's bento.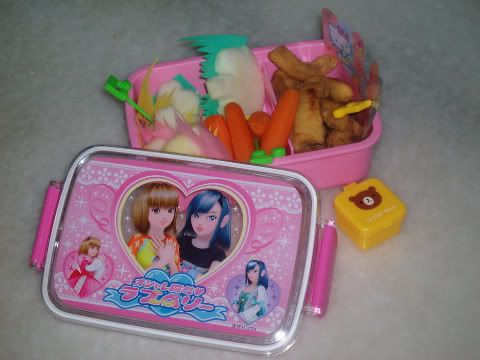 Kimberly's bento consists of steamed baby carrots, her favourite. She specifically ask for them last night. She also made it a point to ask for pears.
She stressed, "NOT APPLE, momma. I dont like apples". Ha ha. That's because I gave her apples for yesterday's bento even though I knew she prefers pears over apples.
So its sliced pears cut into Marie-the-Disney Cat's shapes. I didnt imprint them with "Marie's" face cos I didnt want the pears to be bruised further. I tried lightly salting them to keep them from yellow but when I offered a piece to her last night, she said it taste funny salted like that, so I just let them be.
For the residual pieces of sliced pear, I cut them into tiny heart shapes. Divide them with baran dividers so that she could pick them up easily cos fruits sliced like that tend to stick together in tranport and patting them dry would just make them look unappetising for my kid.
In the divided container are fried baby shark fritters. She love these. Her grandma could fry them better cos her batter always turn out nicer than mine but Kimberly has learn to accept that Mom's fritters can never be as nice as Ah Mah's.
Bento # 15
This is Ashley's Bento.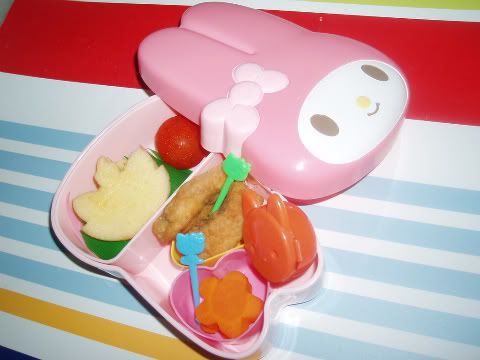 Ashley has the same food. Fried baby shark fritters, except she has only 4 pieces. Knowing her appetite, she is not likely to eat more than 3 pieces of any nuggets. So, one extra for just in case.
Ashley has steamed sliced carrots instead of baby carrots. I cut them into tiny florets and I only gave her three because again, I know I would be lucky if she ate even 2 of them. Carrots are not exactly her favourite but she doesnt mind them.
Ashley has sliced apples instead of pears. Also cut in Marie-the-Disney Cat's shape. That's a lone cherry tomato at the top over there.
Now to get Ashley down to the car for school and scoot off to office to finish some pending causepapers. Didnt realise I am so late. I should learn never to check my emails early in the morning cos I always get side-tracked.
Have a great day today, folks !
Labels: Bento

---