"here" .For older bento posts, just click on the monthly archives at the side bar.
Friday, June 20, 2008
Bento # 16
Bento #16 - Kimberly's half-day Bento
Now that I got Ashley ready for school, I will just put a quick one on Kimberly's bento while Ashley spend some time fiddling with her toys in the bedroom before school. She doesnt like it if I plucked her off to school the moment she wakes up.
I havent load up Ashley's bento yet so will post hers later. I load Kimberly's one while I got Ashley dressed just now. Make no sense sitting around waiting while the pic is being loaded into Photobucket. ha ha.
This is a simple bento for Kimberly because Kimberly is on half day on Fridays. Instead of finishing at 3.30 pm, her school end at 12.30 on Fridays. Her school would then provide food for breaktime instead of lunch time. And she doesnt really need a bento today.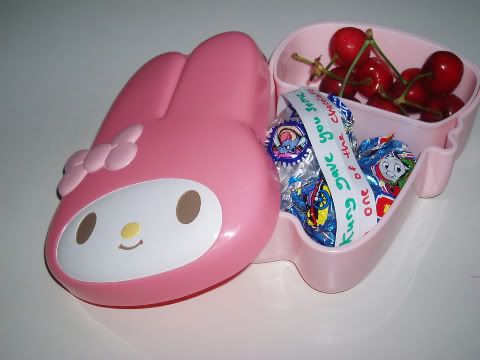 Although she would be having her school food today, I thought it would be nice to let her have some of the cherries her grandad gave her yesterday to go with it. Inside the divided container is 2 pieces of 3D Pooh Bear moulded chocolate. One is for her and the other one is for her classmate, Wey Han, whose mom wants to know if her son would like the particular brand of chocolate I got from the bakery supply store near my place.
Just in case my fuddlebrained little one forgot, I insert a little note as well.
Have a great day today, everyone !
Labels: Bento

---