"here" .For older bento posts, just click on the monthly archives at the side bar.
Sunday, June 29, 2008
Bento # 21 and Bento #22
This is Ashley's bento for Thursday. Also a simple one.
Bento #21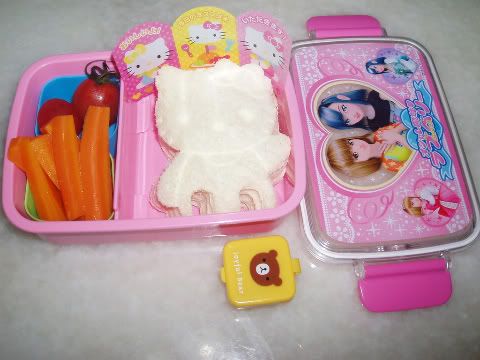 Plain bread cut into Hello Kitty shape. Steam carrots on the side with cherry tomatoes on top. Inside the yellow teddy bear container is some strawberry jam for just in case.
I thought she hadn't much variety for the day so I added a banana for her.
Kimberly did not want any bento today. She asked for some pretzel only, which I stuff into one of these zipper bags. I didnt take any picture of that.
Bento #22
This is DH's bento of yesterday. DH went into office to clear some work sometimes on Saturday morning. Since I had fried some rice that morning for breakfast, I thought it would be nice for him to have some home cook food, albeit only fried rice, instead of those MSG laden food outside.
On the lower tier is fried rice with lettuce and carrot on the side. On the upper tier is a moulded egg gone wrong. Ha ha. It was supposed to be a Pooh Bear moulded egg for the kids, but the egg was too large for the mould and it didnt come out right.
On the side of the egg is some mince pork leftover from the night before and on top of the boiled egg, the last of the cherries which DH's father brought over the other week.
Wish I could make him some salmon, cucumber, crabstick or daikon sushi rolls cos I have these stuff in my fridge right now, but there isnt much time yesterday morning. Made that 2 months back, that being my first attempt, and I had thought it wasnt so hard after all. So, will probably try to do that again over the next few days.
Happy bento-ing, folks !
Labels: Bento

---