"here" .For older bento posts, just click on the monthly archives at the side bar.
Wednesday, July 02, 2008
Bento # 23, Bento #24 and Bento #25
This is a backdate from the last few day's bento. This is Ashley and Kimberly's last Friday's bento.
Bento # 23
It's fish nuggets and slices of zucchini and tomatoes. Bread are plainly cut into a bunny shape. Kimberly is on half day today. The meal plan for Friday in school was fried rice. So I thought it be nice for her to have nuggets to go with them.
Ashley have identical food. Because I threw in some bunny shaped plain bread for Ashley, so i did likewise for Kimberly for just in case.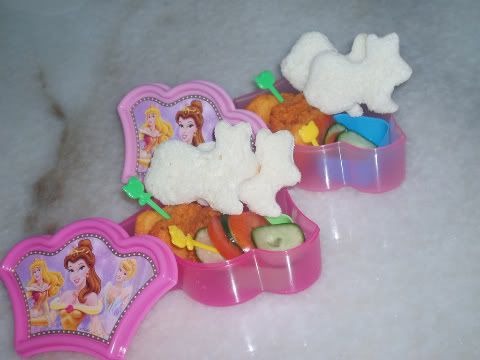 Bento #24
This is Monday's bento
Monday's bento is boiled brocolli, with cucumber and cherry tomatoes. Inside the pink silicon foodcup are some peanut butter sandwhiches which i cut into Hello Kitty shapes. Besides it, some sliced yellow zucchini and lettuce. I saw some at Tesco the other day and thought yellow makes a refreshing change, although Kimberly doesnt mind the colour either way.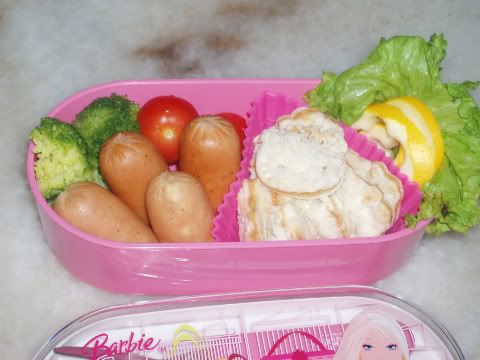 I send Ashley to school with biscuits only cos she ate breakfast at home that morning, having woke up early. Her bento is her favourite biscuits, cappucino flavour, no less. Ha ha. I must say it is more pleasing to the palate than the orange flavour ones, the only other flavour they offers. Will try to put it up here as well. Its one of my favourite as well, from Ikea's Cafe.
Bento #25
Tuesday's bento is moulded eggs and salmon rolled up, and steamed carrot with a slice of zucchini (that's the last of the zucchini).
Kimberly spread the bread and rolled it up with salmon herself. It's a bit cracked at the side, but a good effort, despite. I helped her secure it with foodpicks.
Ashley has the same food, except Ashley's moulded egg is the fish mould and Kimberlys' the Pooh Bear's mould. Kimberly get to pick her choice first, as usual.
On that note, I find that the Pooh Bear mould doesnt always come out looking like THE Pooh Bear. It looks like a bear, yea, but not Pooh Bear. I got the same result using bigger or smaller eggs. Wonder if any other bento-er got the same problem with the mould?
Oh, hey guys, for Bento #26, hop over to
my new blog at www.allthingspurple.my
!
Yup, got myself a new domain !!! Haven't figured out what is the focus for that one yet, so I would be posting from both sides till I decide.
Happy Bento-ing, folks !!
Labels: Bento

---