"here" .For older bento posts, just click on the monthly archives at the side bar.
Thursday, August 14, 2008
Bento # 51 and Bento #52
Ashley's toddler bento on Friday is flat "
Fatt Kou
" (steamed cake) and fried mince meat balls. Fried a batch of mince meatball and onion over the weekend to stash up for fast meals. Since she usually like these, I thought I can include these into her bento box meal plan.
Friday's Bento
-
Bento #51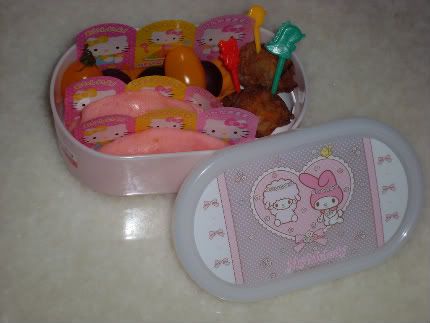 I cut the round flat "Fatt Kou" into half to fit into the bento box. Added some tomatoes and grapes at the side. She likes the red cherry tomatoes better but save for balking at the colour the first initial few times, she has not objected to it since, and I thought I packed that instead of the usual red ones.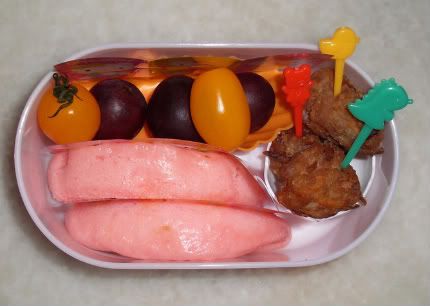 Kimberly is having chipolata sausage, scrambled eggs and milo for her school's breaktime today, food which I know she will eat, so she won't be needing a bento. Friday is half day, so the school offers meals at breaktime instead of lunchtime.
Monday
Ashley woke up early on Monday. I fixed her this for breakfast in front of t.v. while I clean up the kitchen and get myself ready to send her to kindy.
It was originally meant for her bento meal, has she woken up late..... a banana, a kiwi, toast with peanut butter and plain butter. I added some yellow cherry tomatoes and grapes for her.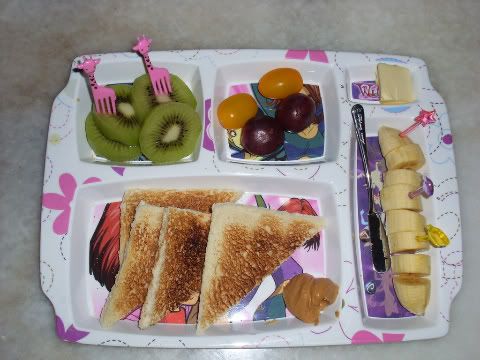 She couldn't finish everything in time for the drive out, so I scoop the balance into a compartmentalised bento box so she could have it in the car.
I found the old bento box (now 6 years old?) together with other baby spoons and stuff that I had packed away when Kimberly outgrew toddlerhood. I somehow missed out on this box when I unpack baby stuff boxes for Ashley. Also discover a lot of neat little Hello Kitty and My Melody bento boxes that used to belong to Kimberly.
The Pooh Bear compartmentalised bento box is huge, but fortunately it fit snugly on top of the Hello Kitty car tray. Didn't take a picture of that.
Her teachers says that she is showing encouraging signs of eating the school's meals together with her classmates. Since she had her breakfast for once before she goes to kindy, I figure she can do without a bento for the day.
For once, I am sending her to school with an easy mind instead of troubled mind. She usually rejects any food within the hour that she woke up. I do wish she would take to having her breakfast at home in the morning before she goes to school in the future from now on. That would take a load of worries off me.
Didn't fix a bento for Kimberly because her mealplan indicated she would be having fussili olio with baked fish, and pasta is definitely something she would eat.
Tuesday's Bento - Bento #52
Tuesday's Bento is Kimberly's. It's teriyaki chicken.
Kimberly would be having Chicken Maryland in school for lunch on that Tuesday. I have tasted the school's Chicken Maryland once. I had dropped by the school's bookshop and they happened to have that for the day, so I took a taste off Kimberly's tray to see if she would have liked it.
Truth be known, it is rather bland to the taste. I didn't taste any seasoning of any kind, or any flavour. Perhaps it is for the kids' best interest to have less salty food, but I think food that bland is bound to turn the kids off.
So, I had cooked some teriyaki chikcen for her bento for Tuesday. But doh doh me, having woke up late, I didn't have time to cut it into bite pieces and skewer it with zucchini for her. Nor did I have time to wrap a foil around the drumstick for her ease.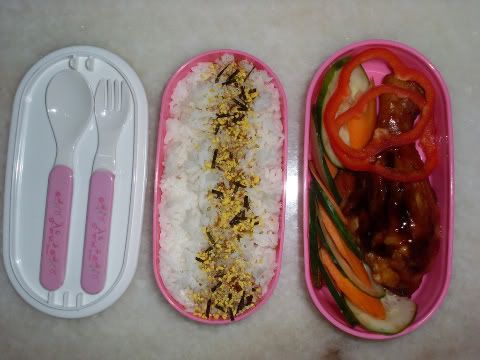 Ashley woke up early as well and was clinging to me, so no time and no free hands to mould the rice either. so packed the bento like an adult bento.
Was chiding myself the whole time I was packing the meal, with one hand holding Ashley on the sling, for not cooking and moulding the rice the night before. I normally stash up frozen onigiri but I had ran out that day.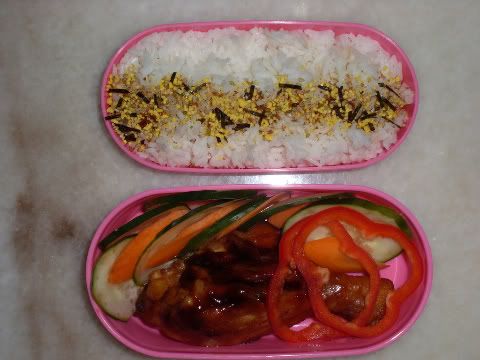 The bento meal was not very well received at all. She ignored the rice totally. It was too much rice anyhow, but having no time, I compressed it to fill the gap so that it won't jiggle around. Kimberly only ate the drumstick and the slices of cucumber, ignoring the red pepper, as I had expected.
Fortunately I had topped up some cash in her smart card so she could buy some other food with it. I had got to wake up earlier next time.
Since Ashley woke up early, she ate her breakfast in the kitchen.
I had stashed up some frozen glass noodles cooked with mushroom sauce for fast tea time meals. So I took out two balls, de-frost and heat it up in the microwave for Ashley's breakfast.
Ashley started eating it before I had time to top it with slices of carrots or zucchini.
So, didn't prepare a bento for Ashley. For those who doesn't know yet, Ashley was a breastfed baby and has rejected the bottle and the formula milk since like forever. She won't eat anything within the first hour she woke up either, so she had always gone to kindy with an empty tummy, necesitating the packed bento meals.
It looks encouraging, her waking up early,having breakfasts and going to school with a full tummy instead of an empty tummy. I hope this will turn into a routine.
When Ashley finally condescend to un-cling her arms from around me and sat down on her high chair to eat her glass noodles, I quickly snap pictures of Kimberly's "adult" bento and the glass noodles.
Will catch up on the rest of the bento posts soon.
Have a great week ahead, all !
Labels: Bento

---