"here" .For older bento posts, just click on the monthly archives at the side bar.
Monday, August 11, 2008
Toddler's Bento # 50
Bento #50
is Ashley's bento.
Ashley's bento is steamed corn and leftover pizza. A girlfriend came over to stay last week for the night as hubby was outstation. Being too lazy to cook and being too lazy to eat out, we ordered pizza instead. I froze some leftovers to stash for future fast meals, so I thought Ashley could have a pizza today for her bento instead.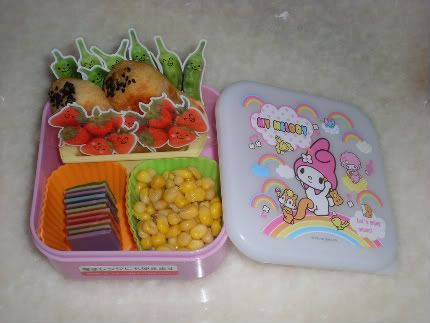 I steamed the corn yesterday night, thinking to speed things up in the morning. But the colour doesn't look so good this morning. Next time I will just have to deshucked them at night and steam them in the morning instead.
For dessert, I gave Ashley a layered rainbow coloured
agar-agar
. The kids prefer
agar-agar
to jelly.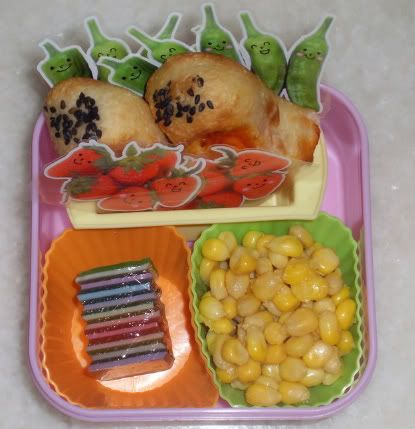 According to Kimberly's school's meal plan for this week, she will be having macaroni and cheese in school. I figure she won't be needing a bento today. I gave her some pretzel for breaktime instead. Since breaktime is at 9.20 am and lunch is at 12.20, I didn't want to stuff her tummy too full, else she will be discarding an almost full tray at the tray counter.
Hubby didn't want a bento today. I think he is rather tired of eating in. ha ha.
So that's the bento for Thursday. Will try to catch up on last week's bento soonest possible.
Have a great week ahead, all !!
Labels: Bento

---