"here" .For older bento posts, just click on the monthly archives at the side bar.
Friday, September 26, 2008
Speed bento v Kyaraben and Oekakiben
Thursday's Bento
Boy, am I glad I close my case today. The judge would not be happy if I didn't, since it was a year 2002 case. Good thing all the witnesses turned up today!
And with that over (for the moment anyhow), I have a few days free over the next few days to go through Kimberly's revision with her. I have been working late the last 2 weeks and the poor dear's work has suffered cos by the time I got home, she was already in bed.
I think we parents' lives all revolved around our kids. Around their exams, around their school hours, their classes, their birthday parties invitations etc. If it's not that, its their homework, their weekly spelling, their school projects, their daily diet, honouring promises to do their stuff that had to be done that day itself because "now" is the only vocabulary that exist in their world.
What I give to have some time for myself !
I would love to be a stay at home mom and not have to worry about datelines, causepapers submission, preparations for hearings, trials, but spend my time preparing beautiful kyaraben bento-s or oakakeben bento-s with inari babies on cots, floral ham, cycle weiners, chequered apple skins, hello kitty kyaraben bento, and all the wonderful ideas learned from those fabulous Japanese moms' bento sites.
Did a ham flower fold like this with carrot flowers all around carrot mixed onigiri for Kimberly yesterday but didn't have time to snap picture cos her transporter was already here. What did that tell you? These things are time consuming.
( Edited this to add the 2nd pic in cos a fellow member of the bar, Rachel, text me to say she don't understand how the first picture (the sideway one)can end up like a flower)
.
But truly, it's not practical with having to rush the kids to school and rushing to work in the morning. But boy, do those Japanese moms' churn out such fantastic ideas.
No energy to churn out kyaraben or oekakiben bento for the kids. Perhaps once in a month if I don't have to spend my weekend cooking up dishes for frozen food dinner stash to last the weekdays, haha. but phew, sounds exhausting. I mean, just take a lot at this !!!
THIS TAKES A LOT OF TIME, OKAY?
These are not mine, ar? In case you are just about to fall off your chair *grin*
But wow, all the careful cutting of itsy bitsy details, cooking of different food for each tiny detail, strategically placed nori eyes and mouth, slow and careful folding of cut lenghtwise ham and egg so it won't break.
But I still love to drool at those kyaraben(character bento) and oekakiben (bento with cute figures and themes) bentos anyhow, even if I don' have time to churn it out myself. ha ha.
In all earnesty, I can only afford roughly 15 minutes for the kids and my own bento, coupled with getting both kids to brushed their teeth, tie their hairs, dressed and ready for school, and getting myself ready for work within that 6am to 7.15 am time frame.
I love to give credit to the Japanese moms who create these wonderful bento above but I usually just cut and paste the pictures for reference without storing the links. If I stumble on her again, will share her fabulous link here. There are lots of other cool links, will put them up at the sidebar when I have time.
Yukinko mama and other Japanese moms whose pictures these belong to, please leave your links here if you chance to see your pictures here okay? so that others can share your wonderful blog.
There's lots of others, particularly this cool Japanese mom's blog , Ikuyama whom I tried to show her wonderful pictures to
Angeleyes
, but I can't save her pictures somehow. Ikuyama (hope I got her name right, cant remember) has those beautiful Cinderella ones that I love to fix for Kimberly one day when I have time.
By the way, Angeleyes is a work-at-home mom who has has a creative touch for her
cupcakes
. She fixes pretty amazing bento for Darrius. Just in case there are cupcake lovers out there.
Speaking of time, I promise I will put up the cloth diapers and the nursing wear here soon. Am so embarassed, Bonnie and the rest of the cloth diaper addicts who asked about it, for the long delay. Been having lots of trials and hearing lately. Will find some time to fix up a markethall and put them up in
my other blog
.
okay, enuf feasting on your eyes. Back to earth now !
This is MY bento. this humble practical one ! hee hee... did I hear a loud thud. yea, what a let down. Hee Hee..
A speed bento because I need to speed off to an outstation court today.
Since
Bento #66
went down so well with the kids, I thought I do a furikake riceball bento again. For some reason, inari and sushi doesn't go down well with my kids. Furikake riceball is the nearest to Japanese finger food carbo that they would take.
Bento #79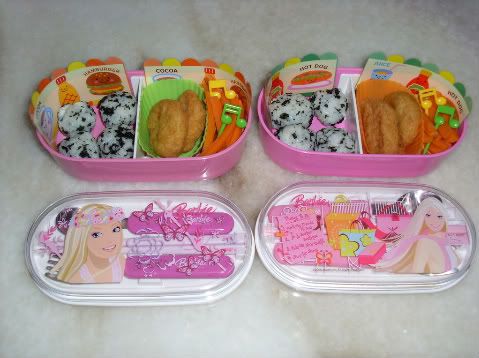 Fried some nuggets in the deep fryer while I get Kimberly ready for school. Not home made nuggets, although I prefer them to eat home made kampung chicken nugget. Steamed some carrots for veges. Didn't have time to cut into appealing shapes for them cos I have to leave extra early today. So it's just strips.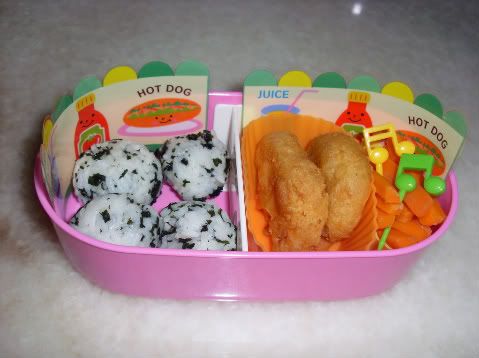 Hope its substantial for Ashley cos I need to pick her up late from school today. Kimberly, the street wise one and being older, can always buy food from the canteen.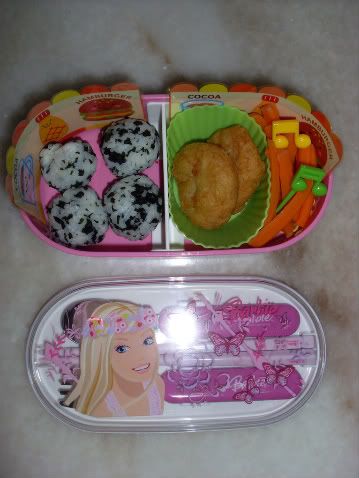 Got a chance to use these bento boxes I got from Toys R Us. They are a good deal at RM13.90, and came with bento straps and fork and spoon. Wait a minute, or was it RM19.90. Anyhow.
By the way, speaking of speed bento, working moms may want to check out
Lunch in a box
. She has such wonderful ideas for speed bento-s.
Happy Bento-ing, folks !
p.s. This is a late post, left in my laptop yesterday unpublished.
Labels: Bento

---