"here" .For older bento posts, just click on the monthly archives at the side bar.
Tuesday, September 23, 2008
Tuna Sandwich Bento
So, it's tuna sandwich bento meal again today. Kimberly had asked for more this time because there isn't enough "to share" yesterday. Haha.
She asked for 2 Pooh Bear and 2 Hello Kitty sandwiches but I could only fit one Pooh and 2 Hello Kitty shapes in there.
Bento #77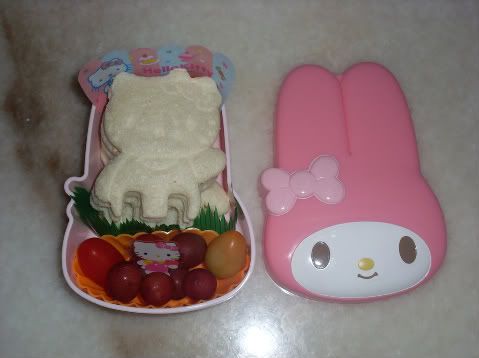 I didn't want to fill up her tummy during breaktime with the bento meal because the Primary school kids will be having rice with tofu and chicken ball today for lunch. I think those are food that she will eat.
So, only a few grapes and cherry tomatoes accompanied the tuna sandwiches.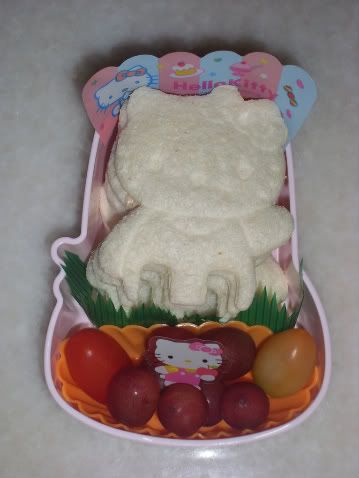 I have ran out of most fruits and vegetables anyhow, save for some fresh red dates. But the skins of those little red dates fruits are too tough on little ones and I am hesitant about putting them out for Kimberly.
Ashley would have bit them into half, then nibble around the flesh and discard the skin, cos that's the way she is with unpeeled apples and pears. But Kimberly would have chomped them down since she is more minded to eat fruits with its skins now, but with fresh date fruits, she would then spit it back on the table and goes, "phoeey ! Momma , the skin is too thick !" But the red dates probably have to make an appearance in tommorrow's bento since I am all out of fruits but won't be buying grocery tonight.
Ashley gets to stay back from school today cos her gran is here to mind over her. She woke up late today.
Bento #78
This is hubby's bento of today.
Hubby's tuna sandwiches are more substantial.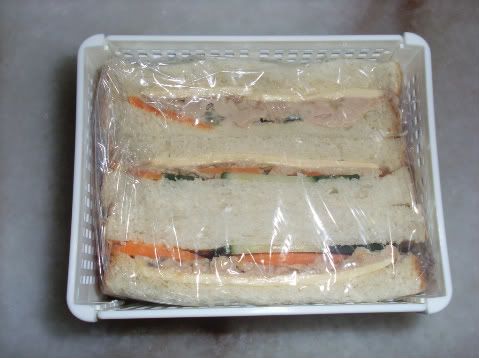 The tuna sandwich is layered with cheese, zucchini and carrots.
I got a chance to use my sandwich box from the 100yen store. I got it at a good deal for RM4.90.
I love using this cos I don't have to squash the sandwich inside. I only need to place it in the middle and then click all the collapsible wall together to connect. The sandwich stays fat. haha.
I see some Japanese sites using pretty rose motives wax papers for the sandwiches, but not having wax papers, not even the plain white ones, I made do with clingwrap instead.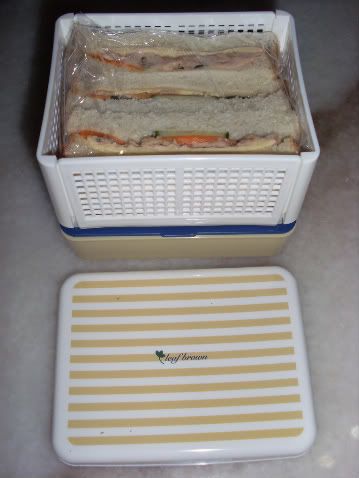 Also, there is a lower seperate compartment that you can put wetter food. I gave hubby half a pear to go with the sandwich, and some carrots, to tempt him into munching them. He is not one for vegetables.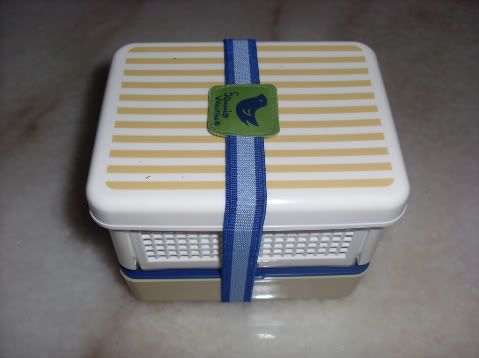 Isn't this sandwich box neat?
Hokay, now that my 20 minutes self-allocated break time is up, I had better get back to preparing my cross examinations.
Have a great day today, all!
Labels: Bento

---