"here" .For older bento posts, just click on the monthly archives at the side bar.
Friday, November 07, 2008
Shu-mai Bento
This is Thursday's bento. It's for both kids.
Bento #98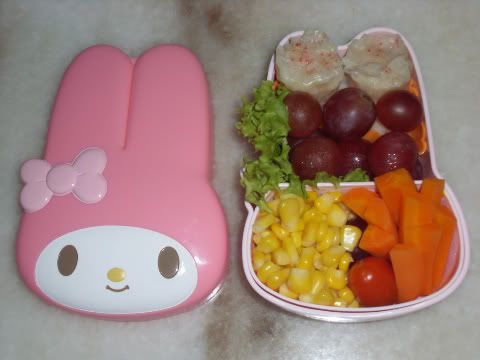 It's 4 steamed shu mai, some grapes and a tomato and steamed corn. Because Ashley prefers carrots in fingers compared to cartoon character prints, I cut hers into strips.
This is Kimberly's bento meal.
It's almost the same, 4 steamed shu mai, some grapes, a tomato and steamed corn. Except that she gets a kiwi instead of carrots.
I had thought that we had finished the last of the kiwi but found a lone one hidden behind the yogurts and sliced that for her as well.
Kimberly finished all her bento food but Ashley came back with some of the shu mai and some of the grapes. I guess it's too much food for her anyway. It's more than I usually pack for her.
Further, she also eat the school's breaktime food it it appeals to her.
There isn't any bento on Friday cos we celebrated Ashley's birthday in her kindergarten and I was late with packing the party packs.
Kimberly didn't get a bento on Friday either cos I let Kimberly off school on Friday.
She was so curious about Ashley's party, I brought her along.
They were not having classes anymore anyhow cos they are practising for their concert performances.
Kimberly,as usual, played the big sister, helping Ashley to hand out the party packs. Sometimes it's an advantage having kids whose age gaps are so far apart.
I blogged about Ashley's birthday over at
my other blog
where I normally post family related posts. It was a simple do. Check out the
cupcakes
that
Nancy of Yozoranitesky
baked for her as party packs over there! Those fondant swirls are oh-so-pretty !!
Have a great weekend, all !
Labels: Bento

---