"here" .For older bento posts, just click on the monthly archives at the side bar.
Thursday, October 30, 2008
Deana's Gifts !
Deana
came down last week. We were suppose to meet at Midvalley so that I could pass her those diapers, and perhaps have coffee and a quick chat. As luck would have it, she is only in Midvalley for 2 days and I couldn't make it on the first day.
She mentioned that she would be leaving the next day itself. I didn't expect her to be leaving so soon. So after sending Ashley off to school, I drop by Boulevard to meet her.
There isn't time for a chat , only for a quick hello!
Deana is such a lovely girl to talk to , and her baby !
I tell you, I can't stop gushing over her baby ! Earnestly I have not seen such a pretty baby girl for a long long time !! Her photos at her blog doesn't do her any justice at all.
She has this "I am such a cutie" written all over her !!! And gurgly laughters, to boot. I think she could charm anyone if she is minded to. haha !!
For such beautiful babies, I think you should have half a dozen more babies, Deana ! Just kidding !
Anyhow, Deana, the sweetie that she is, not only collect those dipes, she also bake my 2 little girls those cupcakes ! How did she know that my girls absolutely have this thing for cupcakes and pretty decorations adorning cupcakes ! Probably the fact that I rave over every cupcakes my little girls enjoy has something to do with it. Ha ha !
Aren't these amazing?
And they are in lavendar, right up my little girls' alley ! Especially Kimberly, who loves all shades of purple!
They each have one on that day itself and the second piece were saved for another day in the fridge.
Those who don't know, Deana takes cakes orders. She is from The Land Below the Wind aka Kota Kinabalu ! Check out her cakes at
Deanacakes
!
The sweetie also gave my little girls these bento boxes ....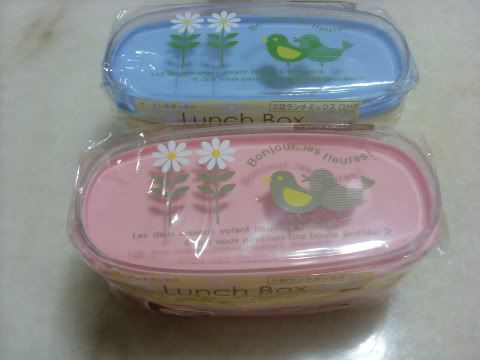 One pink and one blue!
and complete with straps ! Kimberly likes the bunny one but I like the red floral one. haha.
These are lovely, aren't they? We don't have these in our 100yen stores in KL !
Thanks Deanna !! Lurve you lots !!! Muakkk !!!
Hope we can have that coffee and chat the next time you come down here for a holiday !!!
Labels: Bento, everything under the sun

---