"here" .For older bento posts, just click on the monthly archives at the side bar.
Monday, November 03, 2008
Bento #94
I am catching up on last week's bento post. This is Friday's bento.
Bento #94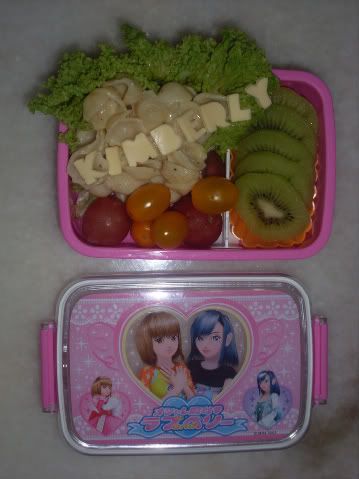 This is a pasta bento for Kimberly. I think she wouldn't like the fried
mee
with minced chicken offered in school that Friday. So I thought I do a pasta for her instead.
Also, she wrote in her diary that " I even know my momma doesn't love me more than she loves Ashley. She even think I don't know".
Isn't that just heartbreaking? So I thought today I let her know that I am thinking of her.
I know, I know, bad momma for reading her diary. I will stop when she is older. But I needed to know for now if she is happy or not.
It takes a lot not to reprimand her everytime she leads her sister into mischief, or rough play that could injure her little sister. And I am so quick to say, "do your homework" whenever I see her watching tv and it's so easy to smile back at Ashley who is constantly beaming up at me.
I don't love Ashley more. I just love them in different ways, that's all. Perhaps I will spend some time with her this weekend and ask her dad to take Ashley off my hands for once.
Anyhow, I put her bento meal in her favourite bento box. The one that had gotten missing before on
the day she came home without her bento box
. I had thought that I will just keep it for family outings instead since it's her absolute favourite. She has this thing for this Japanese girl's anime group, Love and Berry.
Kimberly's bento is pasta cooked with cheesy sauce. I stir fried some garlic and small slices of chicken, then add the milk and the cheese. Then stir in the pasta to combine.
I thought I put a smile on her face by displaying her name on top of her meal. I made use of the alphabet cutter I got from
Chooi Peng
. I have been wanting one of these forever but after getting them, hasn't a chance to use them till now.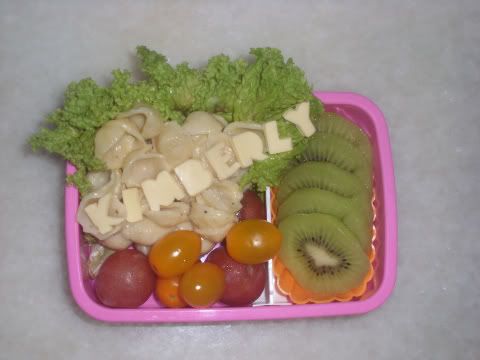 Even though I packed the pasta meal tightly, I am sure the alphabets are going to go askew in transport. So I added a sheet of anti bacterial sheet over her name to make it stick, so that when she open her bento box, she would still see her name displayed on top.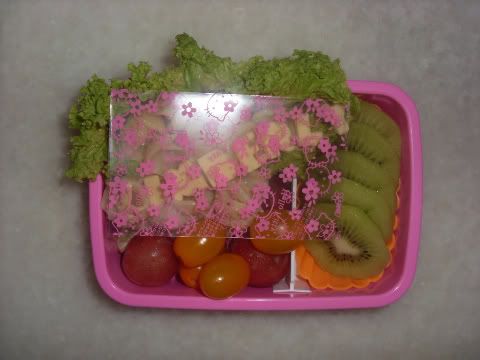 Jacss asked me about the anti bacterial sheets before. So I have put up a pic of it for you,
Jacss
. Hope that helps.
I added Kimberly's favourite fruit, kiwi, at the side and fill up the gaps with grapes and cherry tomatoes. I didn't offer her too much pasta cos I know she is a small eater. Both my kids are small eater. I am so pea green over moms with kids who really can pack it in!!! Makes life so much easier when you don't have to constantly worry over their diet.
Ashley ate her pasta for breakfast at home so I didn't pack a bento for her school.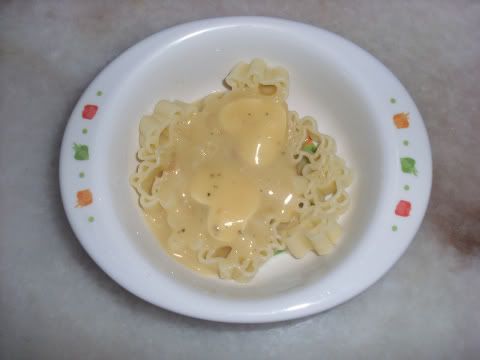 Besides, her teachers and her school's kakak is so pleased with her progress in eating the school's food, I try not to pack bento everyday. Perhaps every other day or so.
I normally cooked the elbow pasta and the shell ones for Kimberly cos she specifically asks for them. I thought I cook the teddy bear shapes for Ashley today (in a different pot)
Kimberly's classmate's mom, Sue has so kindly got these teddy bear shaped pasta for me when she saw them while shopping, knowing that I would definitely like them for my kids' bento meals. haha!
Ashley got up early today. Thanks for the tips,
LZmommy
and
Sue
!! She didn't wake up in the middle of the night last night. I woke her up slightly earlier over the last few days and shorten her nap time. I am hoping she will get back to her routine.
Happy bentou-ing, guys !
Labels: Bento

---