"here" .For older bento posts, just click on the monthly archives at the side bar.
Tuesday, November 04, 2008
Bento #95 and Bento #96
This is yesterday's bento. Boy, am I slow this week in catching up. Just loaded yesterday's and today's bento into photobucket earlier this evening. As long as I have loaded them up, the rest are speedy.
Bento #95
Monday's bento is Ashley's bento.
Ashley normally don't take much protein in school. Feeling guilthy about her protein intake, I pack a bento meal for her today.
Fried her some fish nuggets. Those are store bought frozen ones cos we are out of home made ones, but it's not too bad. Not much fillers (breadcrumbs/flour) in there and more
meaty
than most.
Also gave her some green and red globe grapes. One lone tomato because I didn't want her to go off tomatoes by neglecting to offer her them on a regular basis.
Those leaves in the bento box are part of my mesclun salad. There isn't any lettuces in the fridge so I thought I made do with those leaves.
You know, those green grapes are normally sour? Especially those seedless ones? But suprisingly, I found those particular ones to be particularly sweet, even sweeter than some of those red grapes. I am wondering if there is a particular name for this one, so that I will get the same type next time.
I got them from the fruit and vegetable store down the road from my house. They sell really good fruits. Nothing came out from their stores are bruised or soft. The fruits are alway crunchy and fresh. I love getting fruits from there.
Those that MIL bring back are sometimes bruised, and we end up having to throw them away, or juicing them for us adult's consumption.
MIL buy fruits every first and 15th of the Chinese lunar calendar month. I suppose the fruits that she gets aren't so good because she got them from supermarkets? She doesn't usually go to the wet market unless she wanted to buy fishes or chicken to stock up for us.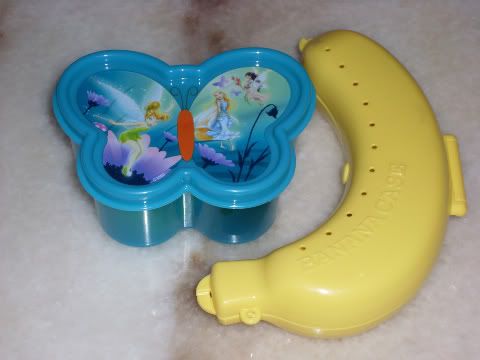 I gave Ashley some pear slices as well to encourage her eating habit of fruits. She doesn't take to fruits as well as her chieh chieh. I didn't want to add any carbo meals cos I know for a fact that she is more inclined to taking carbo food in school.
Packed a banana for her as well cos FIL brought some over the other day.
This is a huge banana holder. The banana is a regular size, but I think the banana holder can easily hold a
pisang raja
with space to spare. Not that anyone would eat
pisang raja
raw anyhow.
Bento #96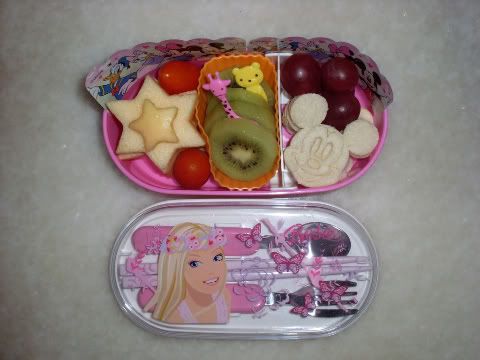 This is today's bento meal. It's for Kimberly cos, haha, I need to show her every now and then that I am thinking of her.
I thought I make use of the new Mickey Mouse cutter that I got a few months back. I really got to utilise all those kitchen gadget that I bought. Sometimes I forgot about them and would reach out for familiar items. Like the Marie the Cat cutter, which I am so fond of? It's the perfect size for apple and pear slices, where I could minimise the leftovers.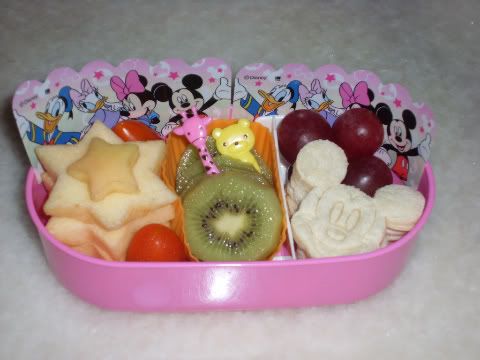 I gave her some butter sandwiches (cos we are out of cheese) and some apple slices (cos we are out of her favourite pears). So much for showing her that I am thinking of her.
I slot some tomatoes and grapes around the sandwiches and apple slices to keep the sandwiches and apples from moving around. And that's the last of those red grapes. I guess we won't be doing any red grapes for awhile.
Put sliced kiwi in a silicon sup to stop any possible kiwi juice from spilling over to other food. At least we have one favourite item here, kiwi. Haha!
That's the last kiwi as well. I really got to fill up my sparse fridge soon. But, man ! That box of 8 kiwis and that box or red globes goes a long way.
Happy bentou-ing, folks ! Have a great week ahead !
Labels: Bento

---