"here" .For older bento posts, just click on the monthly archives at the side bar.
Wednesday, November 05, 2008
Bento #97
This is Ashley's bento for Wednesday.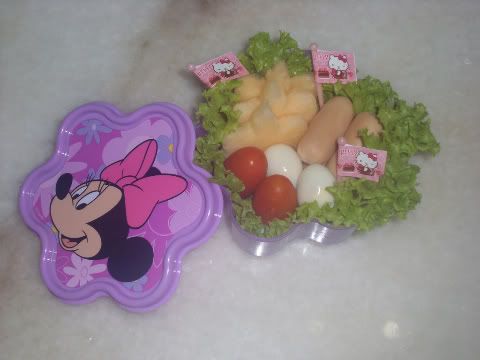 It's honeydew and tomatoes with quail eggs and weiners for protein.
I cut the honeydew in my favourite cutter again. The Marie-the-cat cutter, cos I like the edges all around it. I could have used the Mickey cutter but I prefer this one. I could have used Mickey baran dividers and go for a Mickey theme, but I much prefer lettuces.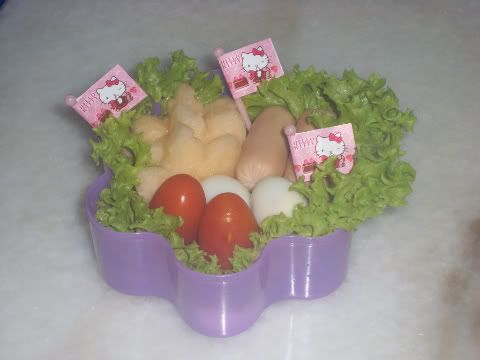 By the way, Cherilyn, you asked about cutting honeydew lenghtwise.
This is how you can cut your fruits if you are using large cutters.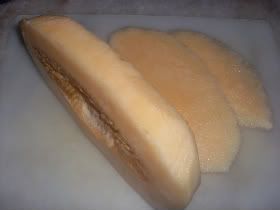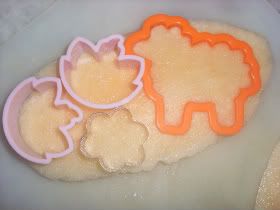 But I don't normally cut honeydew lenghtwise.
I normally just cut them the normal way with just a slight slant because even with cutting the normal way, you can get a longer lenght than usual than you just slant a bit.
The rest, you can cut them all out for convenient sake.
But I normally only cut out the first slice and store the rest in a tight huge lock and lock and stow them in the fridge to cut out the next day for the next day's bento.
Or else, you could use a mini cutter and cut out lots of heart shapes for a mini salad.
Like this.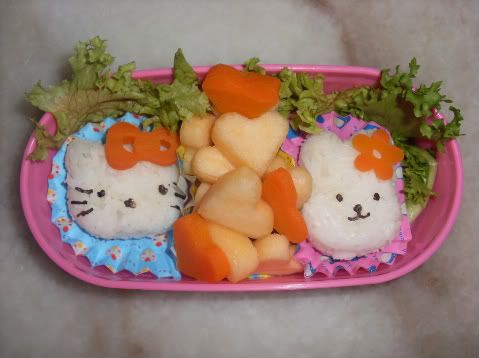 You could also cut your carrots lenghtwise to accomoate larger cutters. Like this.
Those that are too small to be cut into shapes, you can just do julienne. Like this.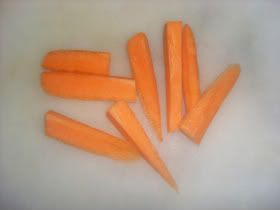 Hope that helps paint a clearer picture, Cherilyn !
I forgot that it's mighty hard to swallow eggs without soy sauce, so added some soy sauce in a pink soy sauce container for Ashley.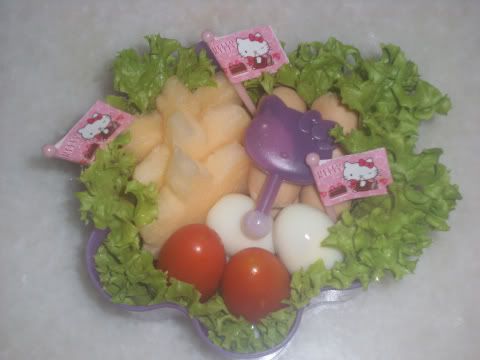 Have a great week ahead, all !
Labels: Bento

---