"here" .For older bento posts, just click on the monthly archives at the side bar.
Thursday, October 23, 2008
Car Sandwiches Bento
Kimberly has a field trip today.
With her
last field trip
, the kids were asked to bring their backpack along, so I had made sure that her backpack is as light as possible. With this field trip, Kimberly informed me that they will be leaving their backpacks in the bus, so I gave her a bento box instead.
I thought I take advantage of the new cutter I got from www.nst.my.
It's a Tomica vehicle cutter. I had baked the egg yesterday night and put it away in a lock and lock in the fridge to ease the morning rush. Also cut out some nori wheels but had to fry the nuggets and boil the weiners in the morning.
Got up ten minutes earlier than usual, sliced and put turkey spam in the oven, nuggets in the fryer machines and frozen
shu mai
in the steamer and weiners in the pot. Then pressed out the bread with the cutter while waiting for the food to be cooked and cooled.
There was supposed to be lettuce, which I had remembered to lay out on the table but didnt have time to arrange cos I was like having only 5 minutes left after arranging the cars sandwiches. Was supposed to cut the weiners into flowers too. But had to abandon both the lettuce and the cutting of the weiners.
Bento #90
There are 3 sandwiches in there.
The on on top is one layer of bread and one layer of turkey spam with omelette window, nori wheels and cheese spokes.
The yellow car was supposed to go to the top for colour coordination but because I didn't have time to tie all of them sandwiches, I just layer them with clear food safe plastics and put the one and only tied one on top, which is the brown one.
The yellow car is one layer of bread with a layer of omelette, spam windows and cheese spokes on nori wheels.
With all the preparation the night before, arranging tiny details on a little sandwich still take a little time. So I forgot to snap pictures of them sandwiches before I wrap them. I had to hastily made do with snapping pics with the wrappers on, so it is kind of blurry.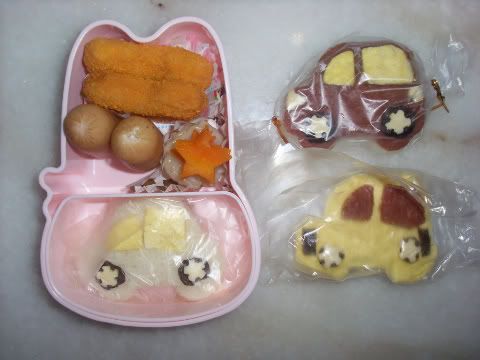 The last car is 2 layers of bread sandwich between one layer of cheese with omellete windows, nori wheels and cheese spokes.
Filled the gap with my trusty fridge "staples", the grapes ! Shown at the above pic, not here.
Sorry for the bad photography. Had to strain your eyes, didn't you?
This is Ashley's bento
Bento #91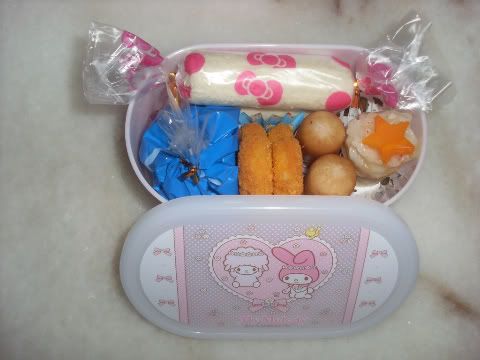 Ashley's sandwiches are tuna sandwiches roll-up and wrapped like a candy.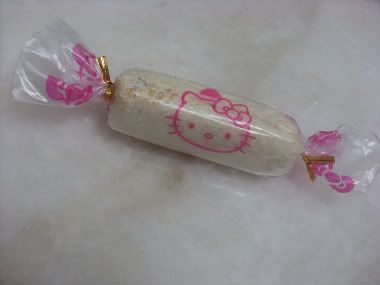 She gets the same food as her sister.
Shu mai
, nuggets, weiners except that I added some apple slices for her instead of grapes.
I put them apples inside a tomica print food wrapper to seperate them from other food. Those who like Ashley's sandwich Hello Kitty wrapper and Tomica food wrapper can get them from
Veronica
cos I got those from her as well.
There isn't any bento for Ashley on Tuesday and Wednesday cos to give credit to Ashley's teachers for easing her into having food with her classmates, I thought I lay off her bento meals for a few days.
I edit this post to add this picture cos Amy doesn't know what I am talking about.
I had asked Veronica ,
HijackQueen
and Chooi Peng if they could bring in these lunch sheets. If they can, it will be bliss preparing colourful bento's, cos you dont have to cook tomagoyaki and colour them and cut them egg sheets for sandwiches.
For example, you can just cut the yellow ones into car shapes, contrast them with green wheels or orange windows and layer them on top of cheese or sandwiches instead of having to cook the eggs and colour the eggs (speaking of which, I still haven't gotten around trying them out yet).
You can even use these as a edible baran divider, tie them into ribbons to adorn your food or wrap your weiners,asparagus or other food with them. It's yellow for egg, orange for carrot, and green for spinach. Let hope our girls bring them in,yea?
Hokay, editing this again !! haha. to add the link !!
Aren't we a lucky lot ??!!
Chooi Peng
is bringing them in !! I have just been informed by her that she had just put it up at her market hall. Fast fast hop over to her
market hall
make your pre-order, okay ? Isn't she such a darling for bringing them in?
Happy bentou-ing, all !
Labels: Bento

---