"here" .For older bento posts, just click on the monthly archives at the side bar.
Friday, October 10, 2008
Bento #84
Thursday's bento is everyone's bento but Ashley's.
This is husband's bento.
It's inari with various furikake topping, including the sweet sakura denbu just for colours.
I added some flat
lup cheong
for protein, divided with carrots and zucchini slices. We loves
lup cheong
but try not to have it too often cos the sodium content is just so high.
My sis brought over some green grapes the other day. Being single, she hasn't much clue that kids don't really like green grapes compared to its purple counterpart. So I slot as many as the space premits in the divider container for their dad instead.
Added some leftover carrots slices in there as well just so as to fill in the gaps.
Hubby is not one for vegetables and I try to make it up with sliced fruits for him when he gets home from work.
I just don't get it. Some guys do eat vegetables. In fact, my elder brother advocate cleansing the body's toxic with just fruits and vege and he goes on this diet every once in a while. Why just won't my other half eat some vegetables?
On the other hand, his first born has always been one who loves fruits. Kimberly usually go through like one whole sliced apple in the morning (if she's home and not in school) and perhaps one kiwi or another apple or pear, or some melons, or a bunch of grapes in the evening. I wish Ashley could eat fruits like her. She does eat them but only in smaller quantity and always in thin slices or itty bitty pieces.
Anyhow, Kimberly had asked for fruits the day before. And chocolate chips cookies that we baked last Sunday. I shaped them cookies into pretty small rounds so that they fit into bento boxes better.
I checked Kimberly's school's menu and found that the school would be providing chicken rice with roasted chicken. So it sounds good to have fruits after that. The menu's "fruit of the day" always sound dubious. It could be papaya which she doesnt take, ever. The school's canteen usually tropical fruits like these, and watermelons. I hardly see any variant.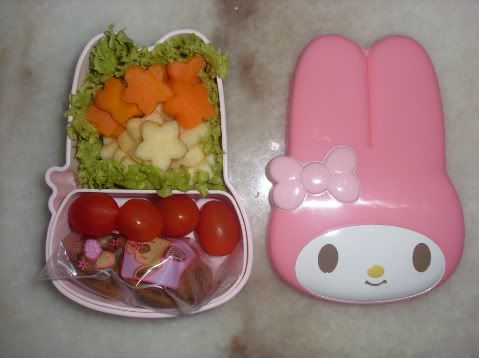 So Kimberly's lunch box for Thursday is just fruits and chocolate chips cookies.
Ashley slept till 11.30 a.m. She woke up at 3 am the night before and went back to bed only at 9 am. So I thought I let her off school.
So no toddler's bento on Thursday.
This is my bento. It's the same as hubby's bento, only smaller in quantity.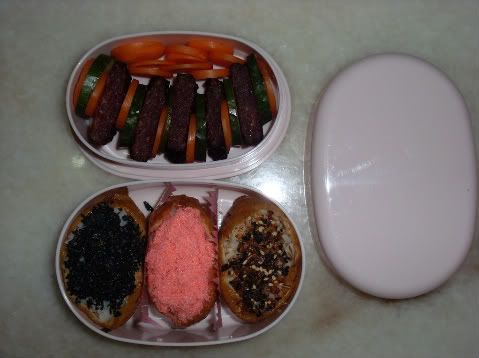 It's 3 inari with the same toppings. But loads of sliced carrots and zucchini. I am more a meat person but vegetables laid out in bento boxes seems more palatable than usual. So I took advantage of the visual gratification.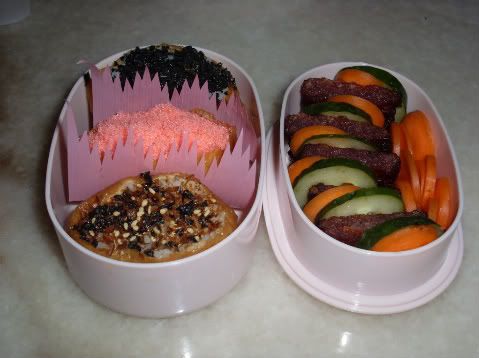 Will post today's bento if the kids go to bed early today.
Have a great weekend, all !
Labels: Bento

---